Today I searched everywhere for Tom's shoes promo code, to no avail. I was really looking forward to getting a pair of Snow Leopard Women's Wedges – a new shoe in Tom's collection. Keeping my eyes open for a coupon or discount, I did cross reference their site (toms.ca) and low and behold I spotted a new link to Tom's Eyewear in Canada. I absolutely loved the virtual try on section, where I can upload a photo of myself to see my virtual look in a new pair of glasses.
TOM's Canada One for One = 2
In both Shoes and Eyewear sections, prominently advertised at the top of the screen is a very important message: "With every pair purchased Tom's would donate a pair to a person in need." As someone who gets involved in world issues and cause marketing, I was delighted to read more about their very special program known as One for One.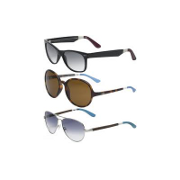 It began with a really great promotion: with every pair of shoes purchased, Tom's will give a pair of new shoes to a child in need. (One for One) Believing that everyday choices have the power to impact the lives of those around the world, the mantra of the the Tom's movement will continue to grow and evolve.
The most recent evolution to their cause marketing includes the introduction of Tom's Eyewear. With my eyes wide open, I read that with every pair of glasses purchased, Tom's will match that purchase with a second pair, giving the gift of sight to a person in need. The video below gives a great synopsis on the efforts and support of One for One.
TOM's as Part of the Solution
I love popular corporations that are generous, taking responsibility or feeling legitimately obliged to get involved in and help solve major world issues. When more people are able to lead healthy, productive lives, entire communities have a chance at a better future. Apparently, in the four years of the One to One campaigns Tom's shoes have donated and distributed a million pairs of shoes.
Looking for a Tom's Eyewear Coupon?
Even though I couldn't find a discounted offer (sometimes TOMS offer a $5.00 off coupon) I think I will buy a pair anyway, just to help someone else in need of a new pair. I will keep you posted on the developments of TOM's Canada, as well as update you when there are some new Toms.ca promotion codes released on the aforementioned link.