While aimlessly browsing the internet the other day (because I refused to spend hours refreshing Facebook as I usually do), I somehow managed to navigate my way to a site called Swag Bucks. I figured anything with Swag in the name had to be interesting but unfortunately (for me at the time), I was greeted with a sign-up page which didn't give that much information on what exactly the site was about and how it worked. But then I saw the magic word listed multiple times on the front page and I just couldn't resist anymore so I signed up.

The magic word being "Free!"
By now, if you haven't discovered that I'm somewhat frugal and in love with coupons and discounts then this is the first article of mine you've read. I can never say no to something when it's free. It didn't take me long to discover that Swag Bucks is more than a typical website that asks you to fill out surveys (and yes, I've been there and done that and even read what Anne wrote about the aforementioned example). Oh no, this is a place where you can play games, watch videos, even use a search engine…all while earning points which you can redeem for simple things like an Amazon gift card to the extreme like a PlayStation 3 (No, I'm not joking!).
Now I'm no ambassador for them, I haven't been using the site myself for long enough to have developed an opinion as to whether or not I can personally endorse them. What I really want to know is if people use it every day or if they have a high churn rate (you never know it could get annoying if you don't get enough swag)? We have a discussion on Facebook about the topic if you want to add your 2 cents.
What exactly are 'Swag Bucks'?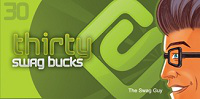 Instead of points or money, they use a form of currency that they call 'Swag Bucks', which is easiest to describe as a digital dollar. These can be redeemed for anything in their 'Swag store' (their online store), which contains some pretty impressive things. Granted for the bigger ticket items, like the PlayStation 3 and even a LCD TV, it seems like you are either going to have to get lucky with the hourly contests they run for 1000 Swag bucks or spend all your time on the site and take advantage of everything they have to offer if you ever plan on acquiring them. The gift cards they offer seem to be relatively easy to acquire, at least.
How do you earn these legendary swag point thingies?
Thankfully they offer many ways to accumulate points. Signing up they give you 30 points to start off with (to get you motivated). They also offer you the chance to vote in daily polls, doing surveys, and they even give you the chance to win points if you use their search engine (I got super excited when I won 20 points my first time using it!). What I like, and where I can see most of my time being wasted, is by watching the movies they have and playing the games. They offer plenty of video clips, ranging from fashion to news to entertainment to even pets. There's no limit to how many you can watch per day, but you have to watch multiple clips to earn just a few points. Whereas, with the games, you can keep playing to your heart's content and earn points periodically. They don't define what they mean as 'periodically', but with my odd addiction to word association games, I don't see it being a problem to earn points via their games (at least for me, but I'm also a self-admitted gamer).
Are the prizes worth it?


If you have the patience and time and understand that most of the really desirable items aren't going to come easy, then this site is actually better than most within the 'points for prizes' genre, it's certainly the biggest. They are basically paying you to surf their site, and honestly, who can really complain? They offer a bunch of e-gift cards, ranging in price for different companies (Starbucks and Old Navy jumped out to me), which means there's very little fuss and hassle to get your prize. Physical items take a little longer (and are actually not even possible if you are a QC resident), but if you've been dreaming of getting a new coffee machine or that famous PlayStation 3 I keep mentioning, then a little bit of waiting time is nothing really.
Honestly, the gift cards seem like your best bet if you would like to redeem points for a prize. They don't have the hugest selection of DVDs, but if you were to purchase an Amazon gift card, you could go wild there and buy to your heart's content. I'm a huge Starbucks lover, so I'm not about to say no to a gift card from them.
How do they make their money?
You should always ask yourself this with every brand, website, store etc you encounter before making an interaction (your gut will ring the warning bells if it thinks there is a problem, after you have asked yourself this question). In this case Swag Bucks get paid by companies when people on their site take certain actions (i.e. searching in the search engine, playing games etc), so they share some of the profit.
Why those companies choose to pay Swag Bucks for people taking a certain action is a whole different question (from being marketing companies trying to gather info, to selling advert space, or to rank higher in their search engine for high value keywords), now I hear you say "ahhhhhhh that makes sense".
Swag codes
After you've signed up, you should do some research on the best tips to earn points faster, there are tons of people blogging about this site that have more intimate knowledge and with little tricks. Like swag codes, there are sites dedicated to updating people about them (these codes get you more points). Try searching for "Swag Codes" in your favourite search engine and see what comes up, there may be some new codes available. Even better go to twitter and search, that's probably your best bet to find the freshest codes (if any are available).
A useful blog post was written by Louis a while ago that sheds some light on exchanging the reward codes (point or bucks) for airmiles which I thought was cool.
What sucks
Unfortunately for Quebec residents, registration isn't open for Quebec just yet, but we can keep our fingers crossed! Swag Bucks are open for the rest of Canada, as well as the United States and the United Kingdom.
Share your swaggering experience with me
Have you had experience using the site? Have you ordered anything from it? I have yet to fully dive into using it on a daily basis so I'm looking for some inside information. You can always leave me a comment below or get in contact via our Twitter account.