It's a fact that during the intoxicating holiday that is Saint-Patrick's Day, everyone becomes Irish no matter the race, origin, nationality, etc. Did you know that interestingly enough, Saint Patrick himself wasn't Irish?

Turns out that at the age of 16, he was captured in Britain and forced into slavery on Irish soil. Although he eventually fled home, he actually returned back to Ireland with the goal in mind of converting the Irish population to Christianity — a task that he didn't take lightly and which he succeeded greatly in.
For those wondering where the drinking comes into play during this originally religious holiday, St-Patrick's Day used to be the only day during which restrictions on drinking and eating certain foods were waived through the period of Lent, a fasting period leading up to Easter.

While St-Patrick's Day is a commemoration of the arrival of Christianity into Ireland, it's also a celebration of Irishness and of the Irish culture in general. Speaking of arrival, don't let your kids see you setting the leprechaun trap the night before St-Patrick's Day.
Celebrate St-Patrick's Day with these timeless crafts:
Gold Coin Chase
First thing in the morning, set your kids on a gold coin chase throughout the house to collect coins left by leprechauns. Keep in mind that the more coins you include for them to hunt for, the more time you will get to either relax in a green bubble bath or perhaps baking up some of the delicious green treats mentioned below.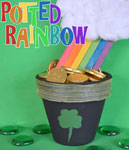 Prepare for the chase by creating a potted rainbow prize in advance and fill it with chocolate gold coins — or if you're feeling extra generous, you could always fill it with real loonies! Then in morning, set the kids off with cards similar to those listed for the lucky gold hunt.
Games

While there are a variety of games to be played during Saint Patrick's Day, the one that stood out the most was the rainbow rice for hours of sensory fun. Basically, a tub needs to be filled with colorful rice for the kids to play around in and create obstacles.
Another great idea is to utilize that printer for a task other than just printing coupons and to print mazes or just download free printables to color in. Since leprechauns embody the activity of treasure-hunting, print bingo cards for a day filled with gold rushing.
Shamrocks
Known for its representation of Ireland, the shamrock is a 3-leaf clover that Saint Patrick allegedly used to advance his teachings of Christianity in representation of the Holy Trinity: God the Father, the Son and the Holy Spirit. While for the most part, modern celebrations aren't necessarily religiously-based anymore, keep your kids busy with some shamrock fun in honor of Ireland.

A quick and easy activity, hand-painting a four-print clover is sure to serve as a great memory piece for the upcoming decades, especially if the entire family participates in the creation of a joint canvas. Alternatively, each child can make their own to then be hung side by side.
Warning: Caution is advised as intense laughter may cause shortness of breath and uncontrollable tears.
Creating a luck art banner may also turn into a great decorative work of art for numerous Saint Patrick's Days to come. For even more hours of entertainment, the lovely paper roll shamrock crafts would look awesome in a family picture to be placed on the mantle or hung on a wall.
Decorations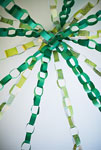 Why decorate the house all by yourself when you can delegate the task to your kids for seemingly ages? Take a peek at the following decorative ideas that will turn your home into green madness:
Green Treats

The best thing is that since Saint-Patick's Day spotlights the colour green, it's super easy to cook anything in theme by adding a bit of green gel food coloring to just about anything. In the morning, make regular pancakes (they can even be out of the box) but add some food colouring to make it more festive. The same can be done with almost anything, just take for example this lovely St-Patrick's Day popcorn recipe or perhaps these super deliciously green triple layer fudge mint oreo brownies. Browse through even more green recipes here for an unforgettable Irish Day!

In the event that you have already made St-Patrick's Day plans and these recipes just don't fit anywhere within them, why not do something as simple as rainbow water to put a smile on your children's face or better yet, mess with your kids a little bit by turning the tap water green. If any of you do this, comment below, we would love to see pictures of their amazed faces!
Share with us your plans for St-Patrick's Day!