Among your New Year's resolutions, is saving money and being more frugal on top? Get all of the glitz and glam that comes with a New Year celebration and avoid becoming broke by paying a fraction of the price. From do-it-yourself decorations to frugal party tips, plan out the bash of the year where everyone will have fun without putting a strain on your wallet.

The classic BYOB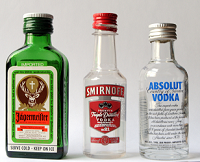 As everyone's favorite and the staple of parties anywhere, Bring your own Beer/Bottle is an easy option. By having guests bring their own alcohol, not only do you save money on pricey bottles but they also get to bring what they like to drink. If you were to buy the liquor yourself, you would risk ruining the chance of either displeasing all of your guests with unfavorable choices or potentially getting stuck with bottles that you don't even like yourself.
This is also a great chance to try something that you've never had the chance to before. For example, one of my friend's brought Cookie Dough Vodka one year and it was an instant hit!
A Delicious Pot Luck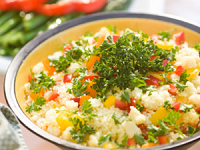 Another excellent way to satisfy all of the different pallets and tastes is by organizing a good ol' pot luck. Have guests bring a plate of their choice, either hot or cold, and lay all of them out in a beautiful setting. Besides saving you money and time in the kitchen, this is another great method to appease everyone and try something new all at the same time.
Looking for good and frugal pot luck ideas? Check out Kraft.com for ideas on what to bring and/or cook!
Want another good idea? Do away with paper plates and cups and have guests use real plates instead. Paper plates/cups are expensive for nothing and create more of a mess than anything else.
Fantastic Do-It-Yourself Decorations
Get all of the glitz and glam for the New Year by taking a trip to the local Dollar store. It's truly unbelievable what you can pick up and put together with a loonie (plus tax of course). Take a stroll down the arts and craft alley to see what is available in the way of glitter paint as well as spray and silver tinsel, out of which anything can be made! Check out The 36th Avenue for an easy tutorial on how to make those hats featured on the right — all with items from the dollar store!
If you have access to a printer, there's also a bunch of printables located to suit your theme. Want something a bit more vintage-looking? Take a look at these chalkboard printables, also from 36th Avenue.
Re-Using Those Brilliant Decorations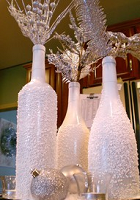 Do you have leftover silver/white/gold ornament balls from your Christmas tree? What about garland? Go riffling through your Christmas decorations to see what you can find and use again for your rockin' New Year's bash. Take the ornament balls and attach them to the ceiling at alternating lengths with pieces of fabrics. Shine a spotlight onto the ornaments to turn them into a remarkable center piece and you'll have an instant attraction.
Combine the garland and tiny string lights from your tree to create something that can be placed anywhere in your space! From the windowsill to the mantel, it will make for a shiny piece that will accentuate any room. And what about those old wine bottles that you have been saving? Peel off the label,spray some glitter on them, and then place a candle on the inside for, voila, an instant candle holder.
Making it an Intimate Soiree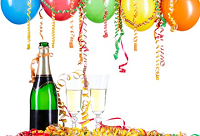 The easiest way to watch your costs rise is by having too big of a party. If you're not ready for it, your nice party could easily get out of hand; we've all seen Project X. Too many people means having to supply for more and there's always that off-chance that your fabulous new TV could get broken.
By keeping the guest list small and intimate, everyone is sure to get to know each other and good conversation won't be lacking! Also, make sure to let your guests know if it's OK or not to bring dates to avoid future any headaches.
What are your frugal tips for New Years?