My boyfriend and I had a small renovation project this summer and before starting it I was really a newbie in the world of house renovation. Now that the project is completed, I've learned a lot and I know that I'm not going to approach the next renovation project in the same way.
So here's an article to share what I learned from this experience and to give you tips so you won't make the same mistakes that we did on our home renovation project.
Our Project
After a few months of endless discussions, we decided that we wanted to remove the floating wall between our dining and the living room, to have a more open living area. And because we also decided to swap the living and dining area place, we wanted to build a custom wood book shelf to replace the TV furniture, an old IKEA one we didn't like anymore.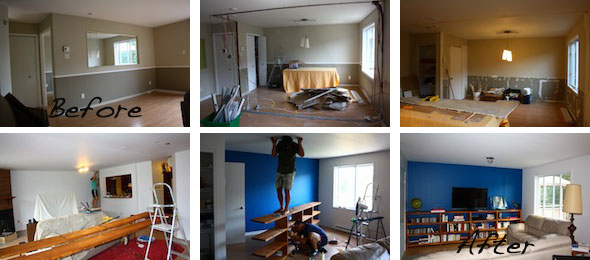 Do it Legally
Most of the construction work you do at home requires a permit. If you're not sure whether or not you need to get a permit, call the city hall and give them a description of the work you're doing. Having a permit could avoid getting a big fine that would bust your budget unexpectedly.
If you own a condominium or if ever you are a co-owner, have a look at the coop rules and make sure that you do it the right way. Telling your neighbors in advance too might also avoid any potential complaints. Have a look at this fact filled article by The Globe and Mail about why renovating without a permit could be a costly mistake.
For example in our case, we decided to do most of the work while our neighbor was on holiday so we wouldn't bother him too much. Also, after checking the plan of our condo we realized that the wall wasn't a supporting one and there was not even a beam in it, which made things a lot easier. The good news for us was that we could put the wall down securely and we didn't need to have a permit.
Make a Renovation Plan
It is really important to list all the tasks that the project will require. This will allow you to have an idea of how long it will take you to complete everything. It is also important that you put them in the order that they need to be done. For example painting can only be done once all the plaster and sanding is finished.
To give you a rough idea, here was our plan:
1- Buy the wood (for the book shelf)
2- Cut the wood
3- Dye the wood
4- Buy all the building materials (*Note that you will need to go back to the store a few times during the renovations. There are always things missing.)
5- Tear down the wall (Be careful you cannot just destroy the wall. You need to do it properly, there might be electric cables in. There are a few helpful videos on Youtube, this is a good example.)
6- Remove all the molding
7- Redo the floor (for this we had to remove some floating floor in the wardrobe first because the floor we had wasn't available for purchase anymore, which added a new task to our project)
8- Redo the electricity
9- Do the plaster and sanding (unless you hire a professional, this could be long process because it requires a lot of layers and sanding and each new layer takes about 24hrs to dry)
10- Removing wallpaper (tip: spray a lot of hot water, it works like a charm)
11- Sand all the molding and put them back in place
12- Paint
13- Assemble the book shelf
14- Put the book shelf in place
15- Redo the floor in the wardrobe
16- BIG cleanup
And this is an even shorter list of what we actually had to do. Between all the different tasks, remember that you will also have some cleaning to do because you're still living in the home after all.
Once you have identified all the different tasks, you need to put a date when each task should be finished. Consider that some tasks could be done at the same time depending on how many resources you have. But because you're probably not a professional, make sure to allow more time for each task. It always takes longer than what we think and renovating comes with bad surprises.
Hire Professionals
If you want to do renovation for cheap, then the best tip is to do most of the work yourself. But for all the tasks you cannot do yourself (because you don't have the knowledge), then I recommend that you hire someone else who does.
Before you ask for quotes from professionals, ask yourself if you know anyone who has the knowledge to do the job? If it's the case, they are normally more likely to do the job for cheaper or even for free if you can give them something in exchange. For us, the electricity was the part we couldn't do and luckily my boyfriend's cousin is an electrician so he did it for cheaper.
We also decided to hire someone to paint the ceilings because this is a hard job and we knew someone who would do it for cheap, so we decided our time would be better invested somewhere else.
Make a Budget
Making a budget before starting to renovate is a good way to ensure that you can afford the project in the first place. Go to a home improvement store, such as HomeDepot, and check the prices of the items you will need to buy.
As soon as you know what you will need to buy, you can start to follow up the different deals happening in stores to see if they go on sale. For example, paint is something that goes on sale frequently (more often during summer time), so keep an eye open for discounts (Rona quite often has a 3 for 2 coupon on paint).
Here's an average of what we ended up paying: wood + staining: $100, plaster: $25, paint + painter: $200, flooring: $30, electrician: $60, sanding paper + other construction materials: $45. We got all this for a grand total of $460, which is pretty good I think. Of course that doesn't take into account all of our personal time spent renovating.
More Personal Tips
Firstly, if you're doing renovations with your spouse, you need to know that there are going to be moments of tension. This kind of project involves a lot of decisions which means that you need to agree on how things are going to be done. Also, note that not everyone works the same way, some are more of a perfectionist than others, so you need to have a lot of patience and tolerance throughout. And take into consideration that after a few days, tiredness will add to the equation.
Secondly, even though you think it's going to be simple and easy, it never is. There are always things you didn't think about and extra problems to solve. You need to be able to live in a messy and dirty house for a while. Even though you do a cleanup after each day of work, things will never be perfect, at least for a while.
And at last, I think that even though you decide to do renovations, it is important that you still live your life at the same time and you don't become secluded and obsessed. Of course you'll have to work at night sometimes and during the weekends, but you need to know when to take a break. Allow yourself to a nice glass of wine and go out for dinner with friends. You'll feel a lot more relaxed and will probably work better the next day.
I think it's also important to try to make the work as fun as possible, so put some music on and sing out loud!
What is your renovation project? I would really love to hear what you did. Send me pictures.