Hi everyone! This is my very first blog entry and (since it's that time of the year already) I thought I'd treat you with some time, money and headache saviours to help your moving day be a success.

1. Budget
Moving can be very expensive, so you should always prepare a moving budget to avoid being surprised (or frustrated) by the overall moving costs. You can always find budget templates or balance sheets online to help you with this fundamental step.
2. Self-help
When moving, self-help is key to saving money, especially since using truck rental services always proves cost effective as compared to a full-service move. Although moving yourself takes more time and energy, you don't have to worry about your valuables as much.
3. Ask your friends
They say that's what friends are for, right? However, when trying to get friends to help you move, don't wait until the last minute to ask. Also make sure all boxes are labeled and that you have a plan for the big M day (you know where everything goes, but your friends don't!). Keep in mind that your friends won't spend days doing your hard labour, so be careful not to overload any one friend. Finally, it's customary to provide food and drinks to your friendly movers, so don't forget to add that to your budget!
4. Boxes and packing supplies
Before you spend anything on boxes, ask around. Friends, family, employers, grocery stores, pharmacies and convenience stores, among others, might have some to spare. Feeling eco-friendly? Why not rent some plastic moving boxes? There's no need to waste time on assembling and sealing them (only to disassemble them as soon as you're done moving!), plus they're durable, water resistant and easy to close and pile up. Besides, packing more items in each plastic box means fewer boxes for you to move! Also, don't spend on bubble wrapping and keep in mind that newspapers might smudge. Instead, use your linens and towels as fillers to cushion other items and avoid breakage.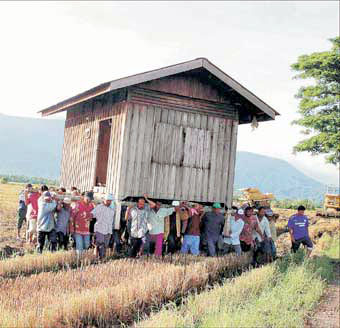 ~ Come on boys, put your backs into it
Other moving day survival tips
Ask yourself if you really have to move on popular moving days (like July 1st in QC). It's always easier to cut deals if you're flexible about your moving date.
Do you really need that?! Don't give in to the I-might-need-it-someday syndrome… maybe it's just really time to toss, sell or give away that paper weight your aunt gave you. You can also take this opportunity to have a garage sale or to donate to your favorite charity.
If you sold it, don't move it! Make sure to get rid, before you move, of everything that's not moving in with you.
Is your move job-related? Think about it, you may be able to get a deduction on some of your moving expenses (click here for more details). Don't forget to keep all related receipts.
Happy Moving Day! If you need any help looking for an apartment, Anne wrote about some useful tips that's worth a read.
Note: If you're planning on moving, please don't forget your furry friend. If, for some reason, you can't bring your pet with you, try to find it a home or a shelter, keeping in mind that there are definitely people willing to care for it.