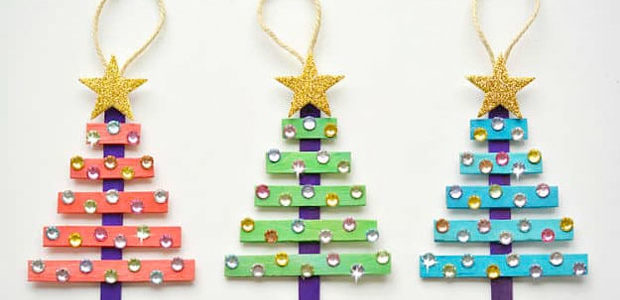 When I was younger, my mom used to schedule one day where we would all make Christmas decorations for the tree. And she would find different handcrafts projects every year so we wouldn't get bored of only painting pine cones.

I stopped doing that the past few years, but as I'm getting older and my friends now have kids, we've decided to get all together for a one-day activity where we would all bring things to make our own Christmas decorations.
Because I'm kind of organized and I wanted to make awesome Christmas decorations, I've did some research online to find the best ideas for homemade Christmas ornaments. I found some pretty cool ones I wanted to share with you in case you could use some inspiration for handcrafted ornaments. Plus, making your own Christmas decorations with recycled stuff is a nice and fun way to save money. So here are my top 5 projects, which I have selected considering how complicated they are to make and how much material and tools are needed. So, basically you can make them with your kids.
Button Ornaments


If you have a big box of old buttons and you don't know what to do with it, I have a great idea for you. What about turning them into beautiful Christmas ornaments? You can simply put them all on a solid string to make a small garland and fix a bow on top of it. It's super easy to do and it only takes a few minutes. Don't worry about only using green or red ones as you can always make multicolor ones. Check out the image, they are super cute.
Peppermint Ornaments


Those red and white peppermints can make perfect Christmas tree decorations. Simply glue them together like they did in the picture and decorate them with other candies if you feel like it. It's probably a good idea to let them dry for a good 2 hours or to affix a varnish on it so that they won't stay too sticky. If you have young kids, make sure to tell them that these are not for eating.
Pine Cones Ornaments

This is a classic when it comes to homemade Christmas decorations. Finding pine cones is an easy task, but if ever you don't find any, you can always buy a big bag full of pine cones for quite cheap at dollar stores and craft stores. It's against my rules personally to pay for pine cones as they lay on the ground for free!
You can then paint them if you would like to make them gold, silver, white or any other colour that you have in mind. You can also decorate them with ribbons, jewelry, glitter or any other ideas that you have.
Ribbon Bow Ornaments


This kind of ribbon bow ornament is really easy to do. Fold a ribbon in an accordion and then pass a needle and thread through the bottom of each fold, pull taut. Then spread the petals. You can get all sorts of ribbons for all kinds of different ribbon bows. This ornament is probably among my favorite ones, I made way too many of them this weekend. Let me know if you have any questions on how to make these.
Snowflakes Ornaments


Here's another classic that we used to make with my mom each year. They weren't for the Christmas tree though, but to put in the windows. To make this kind of snowflake ornament, you will need cardboard, glitters and glue. Draw and cut a snowflake shape in the cardboard, put glue on it and apply a lot of glitter so that it will shine in your Christmas tree.
I found most of these ideas on Martha Stewart's website. She always has the best ideas for homemade crafts and decorations. Go and have a look at her site if you want to have more ideas to make your own Christmas decorations, ornaments and wrapping paper.