Two years ago, I bought my first condo at the age of 25. Although I was quite proud of this achievement, and happy not to throw away my money on rent, I thought it was necessary to cut on many expenses, including those trips I liked so much. After a cheap move and a few months of very frugal living, I realized that I had a little money to spare, and that if I planned well in advance I could afford to travel. Since then, I have traveled (on a budget) to Côte d'Azur, Corsica, Hawaii, Denmark and Germany, and have done a few road trips to New England, New York and Toronto. Here's how I made that possible:


Saving up FOR Traveling
Open a Savings Account
When planning on a trip, opening a savings account for that sole purpose is a wise idea. It will help you keep track of the money you're saving for your trip, and will make it easier for you to keep the money there and not spend it away. I like to automate the deposits on payday, transferring $50 every two weeks in an ING savings account that I named "Travel Fund". When I have some extra cash, I make a manual deposit into this fund before I even think about spending it. This way, I've always been able to gather decent amounts of money to pay for some, if not all, of my traveling expenses.
Make a Monthly Budget and a Travel Budget
Before you can find out how much you can afford to spend on traveling, you need to have an idea of your monthly expenses as compared to your income. Therefore, you should make a detailed and accurate budget of everything you need to manage throughout the month. Subtracting the total amount from your income should then help you determine how much money you could put aside every month. As for your travel budget, the obvious things to include are: flight tickets, accommodation, food and transportation. However, some choices you make might create some underlying (yet considerable) expenses.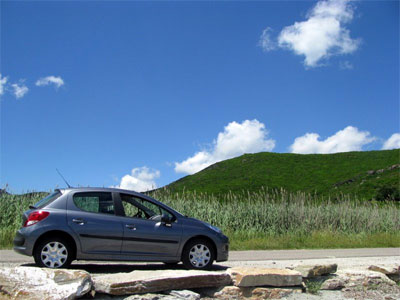 ~ For example, when using a rental car, you must add gas, car insurance and parking fees to your budget. (Corsica, 2010)
For both budgets, don't make the mistake of underestimating your expenses.
Make Day-to-Day Frugality a Way of Life
Having a clear goal – such as a trip – is key to saving money every day, as it keeps you from spending money frivolously. Every time you're tempted to buy that bigger TV or those gorgeous stilettos, think about what that money could buy on your trip (a night at the hotel, a one-day guided tour, etc.). I won't talk about day-to-day frugality much in this entry (today is all about traveling!), but I would suggest you read our other entries on the subject to find more tips and tricks on how to live frugally and comfortably. Always keep in mind that being frugal is a rewarding lifestyle.
Start Planning Early
Yes, you could wait and hunt for last minute deals; however, prices are not guaranteed to go down, and chances are that you might cut a slight deal on the flight, but end up paying more for accommodation. One of my basic rules is to book early and, so far, I've always been rewarded. Also, booking early means you have a wider selection of flights and accommodation.
Look for Online Deals
Orbitz, booking.com, Expedia, hotels.com, TripAdvisor, Travelocity, Hotwire, Priceline and many many more can help you find good deals for flights, accommodation, rental vehicles and even guided tours. I always read many reviews of both the website and the product before I book anything. When in doubt, I make bookings that have a 100% free cancellation policy – if I find something better or cheaper later on, I simply cancel the first booking. This way, I always have a decent plan B. There are also loads of coupons and discounts for many of these travel aggregator websites, search under the travel section in the category page to see the best deals.
Travel in the Low Season
One of the easiest ways to save money on travel is by vacationing during a destination's low season. It is a great choice for many reasons, including cheaper flights and accommodation, fewer travelers and a smoother climate!
Book your Departure Flight During the Week
Generally, weekday departure flights are much cheaper than weekend flights. I also like to leave in the evening so that I don't have to take that day off work.
Be a Loyal Customer
If you're going somewhere you've gone before, try to book a room at the same hotel. Hotel owners like loyal customers, and they might give you a discount or a room upgrade if you mention you've stayed there in the past.
Saving Money WHILE Traveling
Expect the Unexpected
Although it doesn't make sense to travel with every possible thing you might need, it's important to try and avoid having too many unexpected expenses. For instance, you might need a few Advils and plasters along the way, and you probably have loads of them at home, so bring a few and avoid buying a whole new bottle or box. However, things that are cheaply and readily available anywhere (for example, sanitary napkins) can take up valuable space in a suitcase, so you should budget some cash to cover incidental needs.
Travel with Frugal Companions
We all know that finding the ideal travelling buddy is very hard. You need to get along well and have similar interests, but it is also fundamental that you should have comparable individual budgets. Needless to say that if you're planning on staying in low-budget hotels or hostels, you should not travel with someone who requires high class lodging. Therefore, you should always talk things through with your prospective travel companion before you book anything.
Cost-sharing Tips
Cost-sharing is key to saving; however, keeping track of the (oh-so-numerous) expenses is the only way to make sure everyone ends up paying the proper amount. It's always a good idea to keep a detailed record of the shared expenses before and during the trip. During the trip, for instance, when you pay a bill that will need to be split, write your name on it right away and place it in a specific compartment – and ask your companion to do the same. Also, you've probably all been in this situation where both travelers have to spend a few bucks at the same time (for example, to take the bus) and both start fumbling in their bags (losing precious time and being easy preys for thieves). To avoid this, I suggest creating a shared-expenses 'fund', managed by one person, in which you both put the same cash amount. My companions and I usually start by putting about $25 each, then we add equal amounts if we run out, and we simply split the balance at the end of the trip.
Avoid the Worst Spending Trap: SOUVENIRS
When buying yourself souvenirs, always try to find things that you like and that you could use in your everyday life. For example, back at home I had been searching high and low for the perfect yoga CD (no birds chirping, thank you very much!), and when I heard some delightful and relaxing music playing at a historical site in Corsica, I knew I had found my souvenir. If you have a themed room or a collection, it's also always fun to find a little something to add to it. Don't bring back a trinket that's going to end up at the bottom of a drawer. As for souvenirs you buy for others, the trinket rule also applies, obviously. My personal favourite trick is to find something that fits my usual birthday/Christmas gift budget, and then offer it to my parents or friends on these occasions. They love getting stuff from abroad as presents!
Cook for Yourself
Part of the fun of a vacation is eating out and trying new things, but everyone knows that eating out for every single meal can have a dreadful effect on your wallet. Other than saving money, there are quite a few other advantages to staying in a hostel or a hotel room with a kitchenette, including being free to eat breakfast whenever you want and controlling what you eat (think vegetarian or low cholesterol diets, or lactose/gluten free meals, among others). Cooking yourself (even just one meal a day) will help you save a lot, and you can still enjoy a few well-earned eat-outs. Look online for simple recipes that travel well, or for tips on hostel cooking.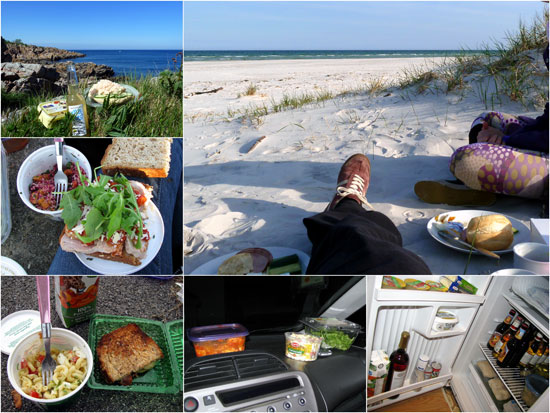 ~ Here are some examples of frugal meals I've cooked during my trips. (Denmark, 2012, and Cape Cod, MA, 2011)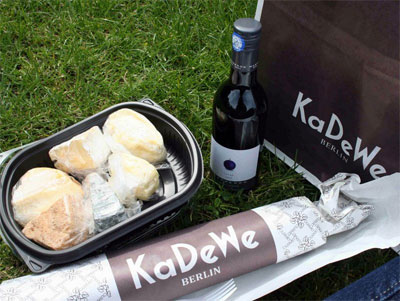 ~ If you don't feel like cooking, buying take-out and eating on the beach or in a park can be fun, cheap and even fancy! (Berlin, 2012)
Note: If you're bringing food from home, make sure you are allowed to enter another country with it. It is usually prohibited to bring food products such as fresh fruits/vegetables as well as meat, dairy or other animal products. Look online for country-specific restrictions.
My friend Béatrice and I decided to test most of these strategies last fall. Our goal was to spend a comfortable long weekend away from the city for less than $300 each. We set up for Cape Cod, MA, and achieved that goal by each spending $130.70 for three nights at a hotel right on the coast (booking during the low season and taking advantage of a $10/day returning customer discount), $45 for food and (way too many) drinks, $65 for gas and a little more for various personal expenses!
All I can say is: be creative! Check out visitor's bureaus for free maps and coupons. Couch surf. Choose a backpack over a luggage. Invest in a refillable water bottle and fill it in hotels, museums, visitor's bureaus and cafés to save a few dollars a day. Pay more attention to how much you spend by paying with cash only (seeing that big pile of bills shrink is definitely a good motivator). The list is endless – if you're creative and determined, I'm convinced you'll manage to quench your thirst for travel. I hope you'll share your experiences with us when you get back!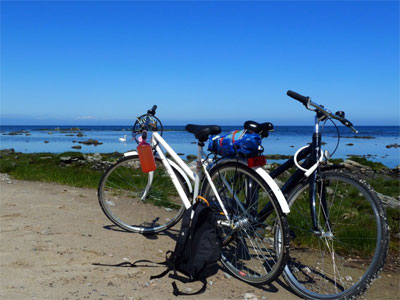 ~ Being creative can help you save money. For example, a cycling holiday can prove both fun and cheap. (Denmark, 2012)
Let's talk travelling, make a comment below to share your frugal vacationing tips (I'm sure you have some)!