It's no secret that I'm an avid couponer and spend my free time either ordering or clipping coupons. It wasn't until I realized how much I was actually saving on my grocery bill that I was able to see how worthwhile couponing really is. On average, I save anywhere from $10-30 just with coupons, and that isn't including how much I save shopping the sales. Since coupons are basically free money that companies are giving you, why wouldn't you take advantage of it?

I've kept handy my latest grocery bills as a sort of case study to show you how much you can actually save with coupons. It's easy to find coupons if you know where to look and you can even save on your grocery bill without couponing (a classic piece here at VC!) once you start recognizing sales and the best prices for items.
Think of it this way: if you were to save $10 a week on your grocery bill each week, that equals out to $520 in savings a year. What would you do with the extra money?
Before we start….
Before heading out to do my grocery shopping, I first go through my handy and organized coupon binder to remove the expired ones and add any new ones. To save even more money, I match my coupons to the sales and deals in weekly flyers.
I then write up a grocery list as demonstrated here:

As a sidenote: please ignore my bad handwriting!
As you can see, I clearly label it by store, which items I have coupons for (and where those coupons come from), items that are on sale but don't need a coupon and how much the total price will be. This methodology helps to provide a pretty accurate look at how much the bill should be to start off with.
Our friend Jeff wrote an amazing piece on how to get the most out of your coupons and one of the major points he raised is that it's vital to learn the best price for items. Once you start recognizing the true value of items, the amount saved will grow in the long run. Take for instance bacon: why would you buy it at over $5 when it often goes on sale at $2.99?
I visited three stores on my last shopping trip: IGA, Maxi and Metro. In each section, I've broken down my bills to show you how much I saved with coupons and how much I saved by buying sale items without coupons. Get ready to be amazed!
First Stop: Maxi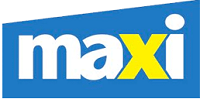 During the week that I visited Maxi, Oasis Juices were $0.88 each, which is the lowest they go on sale for in my area. Bagels were also only $1.00 that week and, since they are easy to freeze and to store, we bought those in bulk.
I had a BOGO coupon for Healthy Choice Steamers and they were on sale for $2.98, and I picked up two for only $3.00. I also had various coupons for Jell-O refrigerated snacks, Kraft Peanut butter, Purex Detergent and Tampax tampons. Since all of these items were already on sale at this time, I saved even more with my careful coupon planning.
Among the other items on sale that I picked up, there were also bananas, peaches and a nice pork fillet that was instantly stored in the freezer at home.
Second stop: IGA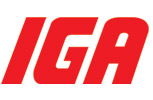 Most, if not all IGA stores, offer free items on purchases of $75 or more so I purposefully buy any random items that we may need there (ex: milk, deli meats, etc). The week I went, they were offering free Catelli pasta; you can never have enough pasta!
My local store has been running a promotion on their store brand granola bars during the last few weeks (January 2013) where if you buy two boxes, it comes out to 2 for $2.98. Since I have yet to see any brand of granola bars cheaper than $2 in my area, I made sure to stock up for a couple of weeks in advance.
I also had coupons for free items: Kellogs Special K crackers, Lean Cuisine Fresh inspirations and Gadoua Bread.
Sugar and eggs were also on sale at the lowest price available in my area and milk was at the lowest price allowed. We collectively decided that we wanted Toaster Strudels in the household and, since they were 2/$4.00, we also bought those.
Final Stop: Metro

During my shopping trip, Metro had a promotion going that with every purchase of a 16-pack of Source yogurt, customers were given a free 650g tub of Source yogurt. Since one of the roommates and I snack on yogurt to no end and another roommate cooks with it, we made use of the two $1 coupons I had and spent $3.99 on each pack.
Kraft cheese was also on sale and once again thanks to clever planning, a coupon I had been saving reduced it to the low price of $1.99. I also had a demand that week for frozen meals and lucky for me, Michelina's frozen meals were 4 for $5.00.
What's the Grand Total?
After calculating the entire total of what I saved with instant savings in store along with all of my coupons, the total amount I approximately saved was:
An Outstanding $42.49!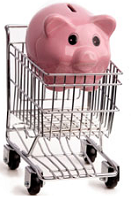 The grocery shopping I did will last my household about two weeks (due to previous sales and stocking of others items) and has served to cut down our monthly grocery bill. It will also enable us to use that money we save and put it towards something else: be it a treat from Starbucks or towards longer-term savings.
What would you do with an extra $40 per week?