Recently, I hosted my very first clothing swap, during which a bunch of my friends and I traded clothing and accessories that we no longer desired in exchange for something new.
It's one of the new frugal trends that is quickly gaining hype and popularity around the country; even with dedicated websites such as SwapStyle.com popping up for it. It's a great reason to pick up some new pieces of clothing, a fancy new scarf or any item for your wardrobe without having to break the bank in the process.
It's not just all fun and games and a chance for you to let your inner shopaholic show though! You need to set some guidelines and prepare for the event for it go off without a snag. It took a bit more organizing than I realized but it was a super smash and we all came away with some great pieces!
It's your party and you'll cry if you want to!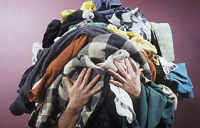 While I don't recommend actually crying at the event, this truly is a party and a great reason to throw the bash of the month. Start by deciding which guests you'd like to invite and, where it sounds easy, it actually may not be. Try to pick people that are all within the same shape ensure that no one feels left out (no one likes going shopping just to find out that NOTHING fits them), as well as friends that are somewhat varied in taste.
Although I didn't set any since it was my very first time hosting such an event, I recommend putting in place common ground rules for the swap in general as well as the kind of items that are accepted : pieces have to be clean and in good condition (ig. no rips or missing buttons), what accessories are allowed and which aren't, if there's an item limit they have to bring…all those ideas.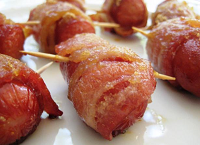 Another thing you should start planning out is whether food will be served and consequently, the kind of food. Limiting it to finger foods will enable your lovely ladies to still be able to shop with their free hand. With a huge listing of delicious finger foods, Food.com is sure to delight all of your guests. I actually made the hot dog and bacon roll-ups and they ended up being more popular than the clothes!
A big giant ball of….what?
Once the invites have been sent and the basic guidelines have been set, it's time to figure out where your going to set everything up and if you will need anything extra. A good rule of thumb is to make sure items are all grouped together: pants go with pants, shirts go in a shirt pile and so on. Much like going shopping in a real store, no one likes ruffling through a gigantic pile of clothing just to find the one item.
Most department store have clothing bars that you can purchase to hang items on (it might be a good idea to hang coats from it if you're hosting a party in the future). If not, try improvising to come up with clever ways to display the goods! Need ideas? Check out what we did at my house in terms of where items went:
~ Click on the picture to see a full-sized image.
Curtain bars make a great place for displaying and hanging more delicate items such as blouses or dresses. Any sort of table is perfect for folded shirts and tees to be placed along with pants and skirts. Since we ran out of space to display sweaters and jackets, the couch doubled as a secondary location to put clothing! The arms and back of the couch make a good place to hang lighter items and the cushions themselves are the best for jackets.
In the idea of keeping everything together, I wanted to keep all the accessories in one place as well and placed two chairs to the side of the room. The back of the chairs can be used to hang belts and scarves and the seat can display other items. In fact, I placed an ice cube tray on the chair to make it easier for earrings and small bracelets to be kept organized. Necklaces were hung up on an old display with hooks that I found in the attic. The idea here is to use anything and everything you can find to help display items without spending a penny. So re-used and recycle as much as you can.
We actually ended up having about double the amount of clothes that you see there and we ran out of space at one point because all of my friends had brought a ton of clothes!
It's a shopping spreeeeeeee!!
After your guests have arrived and everything is set up, let them know how you plan to go ahead with the exchange itself. We were only 5 girls at my event and we thought it was best for everyone to just go at it and pick an item at a time and try it on. What they didn't like, they put back in it's place and if they wanted to keep it, they put it in a designated pile for themselves (also make sure to let them know where that is!). One idea that was tossed out there is that everyone picks a number and goes in order: the first person picks a certain amount of items, then the second and so on and so forth. Discuss with your friends what idea works best with them and then go with it.
Make sure a full length mirror is nearby for your friends to admire themselves in, along with private locations to try on the clothes. You really get a sense that you're actually shopping at these kinds of events and it's intoxicating! Let your inner girl show and go wild the best way possible: by spending no money and getting a ton of fabulous clothes in the process.
What happens in the unlikely possibility that clothes are left over?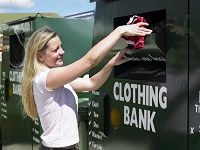 Once everything has been rummaged through and everyone has acquired their desired items, it's more than likely to happen that you will have some items leftover that no one wants or can find a use for whatever reason. Instead of just tossing the items on the curb, donate them to someone who needs them! Ask your local church if they accept donations or bring them to a center like The Salvation Army— both places that will definitely make good use of your unwanted pieces.
Is the idea of throwing an clothing exchange appealing to you? Let us know in the comments below!