glamping, n. Glamorous camping. Satisfying your craving for the outdoors and your penchant for a good meal, nice glass of wine, and a comfortable bed. (source: urban dictionary)
Recently, I talked about the exciting (and scary!) business of investing in a chalet, a cottage or a summer house. Even if you're not currently on the market for one, there are still many ways to get away from the city and move closer to a bit of wilderness. Of course, traditional camping is always an option, but the increasingly popular camping trend known as "glamping" might be the frugal traveler's next favourite activity.

'What's glamping?', you might be asking yourself. It is a newly coined word that combines "glamorous" and "camping" — as simple as that. It describes the kind of outdoor living which provides more luxurious facilities than those associated with traditional camping. Therefore, if you're looking for comfortable and frugal accommodation with a twist, or seeking a little refuge in nature without foregoing your usual luxuries, glamping just might be for you… and Canada is full of green and glam getaway options — who knew?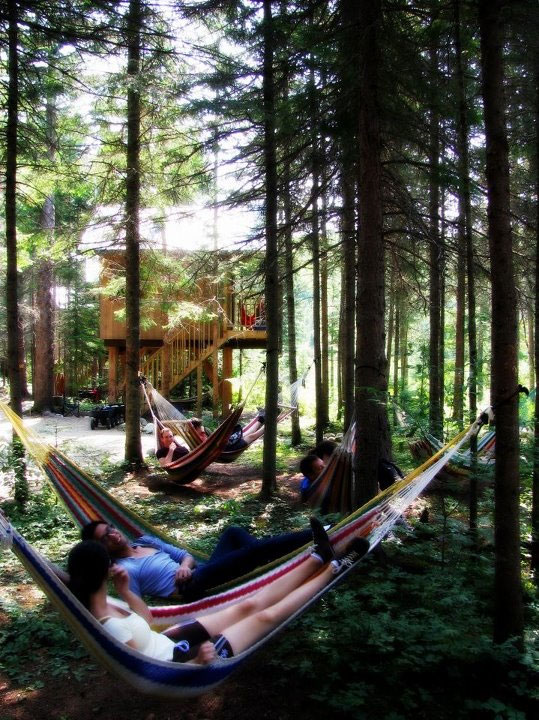 ~ Explore all the natural wonders of camping glamorously with friends or your loved one. (Kabania, in Lanaudière, Québec, August 2012)
Here are Some Benefits of Getting Your Glamp on:
Wilderness. Of course, as compared to a stay in a hotel room, you can sleep amongst nature.
Comfort. Usually, these pretty huts, teepees, cabins, yurts, treehouses, etc. are insulated and furnished. Although you might need a thick sleeping bag in the winter, you can still expect to be warm at night.
Facilities. Glamping accommodations usually come with fully private facilities, or are at least located very close to convenient shared facilities. Either way, you can expect a hot shower!
Worry-free convenience. Have you ever tried to set up a tent under the rain or on the snow? Have you ever woken up with everyone piled up on one side of the tent because it was set on a slight hill? I'm quite an expert when it comes to camping disasters; therefore ready-to-camp glamping makes my day. Also, not having to pack and unpack leaves more time for hiking, swimming, sun bathing, playing, cycling or exploring.
Gourmet Campfood. My favourite aspect of glamping is that however far in the wilderness you might be, you can still sip a warm coffee in the morning and enjoy a hot meal with a glass of wine in the evening. Since these glam accommodations often give access to cooking facilities that have all or parts of the essentials, including a fridge, a stove, a BBQ, glasses and dishware (sometimes even a microwave, a coffee machine or a fondue set!), you can cook wonderful meals for yourself and spend some good time without worrying about your food going bad. Washing the dishes is also more convenient and easier when you have a sink and all the necessary equipment.
Safety. For obvious reasons, you will be safer than in a tent. For example, as you will usually have access to a fridge, you don't have to worry about attracting wild animals as you would if you had to leave your food in an ice box outside or in your tent. Glamping facilities are also often equipped with a lock.
Sustainability. When it comes to glamping, you'll find that, as a general rule, 'luxury' and 'sustainability' go hand in hand. The eco-friendly approach which is inherent to glamping is often made obvious by the number of solar-powered retreats available. Don't be surprised if the furniture is made with recycled wood or if you are provided with a sustainable wood-burner for cooking and heating. Sometimes it is even possible to buy local meat or fresh fruit and vegetables right at the site (for example, I was tempted to buy some tasty Highland Cow meat at Au Diable Vert in Sutton, Québec. Yum!).
Still a rather obscure concept to many, glamping is becoming more and more popular in America and Europe, among other places. The increased interest in this very special kind of accommodation has borne fruit: Canadians now have plenty of options to choose from. There's no more need to drive for hours — with just a bit of research, you can be sure to find a glamping resort at a reasonable driving distance. Also, more luxury camping operators means more competitive pricing!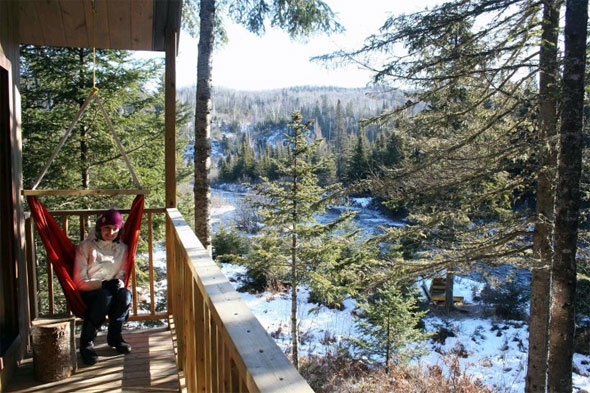 It was -15°C outside, and yet it was warm inside our little home for the weekend. (Kabania, in Lanaudière, Québec, December 2011)
Here are Some of Canada's Top Glamping Destinations:
Reaaaaally Putting the Glam in Glamping
There's glamping as a frugal option for a quick getaway, and then there's the Clayoquot Wilderness Resort. A private charter flight or a 30-minute boat ride takes you to this exclusive eco-safari destination, located right on a lovely and removed peninsula in British Columbia. Spend a week in a bit of wilderness, with the luxuries of a 5-Star hotel, for the modest sum of… $11,000 CAD… per person… yikes! Talk about getting your glamp on!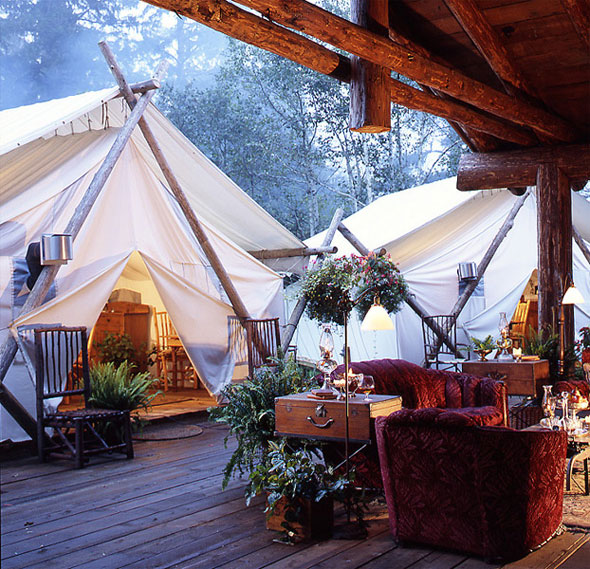 Extreme glamping at the Clayoquot Wilderness Resort
I would love to hear your tips on getting your glamping resort for even cheaper. I find last minute bookings can reduce the price if they aren't fully booked, or the flip side, where booking really early can save on price.
Try to bring as many friends as possible to further reduce the total cost, you also have the added benefit of being surrounded by friends (like in the first picture on this post).