Celebrating Father's Day with little ones is one of the best opportunities to get them involved in crafts that dad will love and will be able to cherish forever. Not to mention that once the kids are older, they won't believe their eyes when they see their amazing creations!

As for the rest of you looking for the perfect gift, be sure to check out our extensive compilation of the best deals for Father's Day 2013.
Cards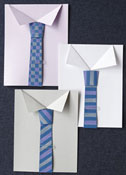 A tradition that goes way back, card giving remains one of the best ways to express love and gratitude for friends and family. In this case, it also turns out to be a wonderful craft for kids and one that is sure to touch dad dearly.
If time is of the essence, then a regular card can be picked out by the child at a store and then his or her hand can be imprinted inside with paint. Otherwise, if dad is the kind to wear a lot of suits and ties, then the originality behind the suit and tie card featured on the right will be unforgettable and all things considered, shouldn't take too long to accomplish.
Another idea would be to blow up that card in size and to include inside a candy bar letter that will make dad's heart melt out of the sheer sweetness behind the words (both figuratively and literally)!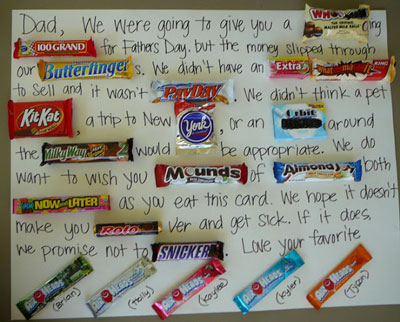 Pictures
Although a picture is worth a thousand words, no words can even begin to describe the cuteness behind the Coleman Chronicles' Father's Day gift idea on the right. Though not a craft per say, it could nevertheless make for the perfect gift when a child is too young to make their own.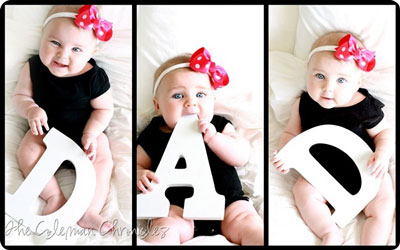 Otherwise, let your child express their creativity by sitting them down with a number of paint colors and a blank canvas. Though the end product is guaranteed to be messy and require a bath, once the masterpiece has dried, it can be framed along with a lovely picture of the toddler in action (suitable for all ages, of course).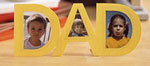 If kids are old enough to wield scissors, then there's also the option of cutting out the letters spelling their father's name, which quite naturally is "dad" or any other meaning for it in different language used around the house and inserting pictures into the empty spaces.
Photo books could also make for an interesting kind of Father's Day craft for The Sentimentalist type of dad, though perhaps an idea best accomplished by older kids.
Posters & Frames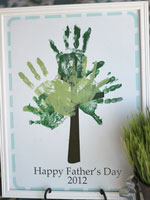 Incredibly easy and fun to make is the handprint family tree. Simply print our the 2013 template of a tree and have each kid place their hand on the branches with paint.
For an added level of difficulty, draw the tree's stump and branches yourself with either paint or a real brand from outside, the latter of which could end up being a great activity idea for the kids as well.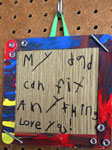 For The Fixer Upper kind of dad, then a personalized message such as "my dad can fix anything" within a nuts and bolts frame is sure to make any dad feel ultra special. He might even hang it in his workplace, helping to strengthen the father-child bond!
DIY Plates & Cups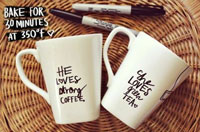 While it may sound slightly complicated at first, DIY plates and cups are actually much easier than one might anticipate!
Just as with the adorable sharpie mugs, simply have kids draw whatever they wants onto white mugs with sharpies and then bake them at 350 degrees for 30 minutes. Voila, super quick and super easy!
For extra level of difficulty and perhaps creativity, a baseball plate or any other plate featuring dad's favorite sport or hobby, would look absolutely amazing with the kids' handprints in the middle or along the sides.
The best part is that even if mistakes are made throughout the process, they can easily be wiped off until satisfaction with the masterpiece has been achieved!
Other Craft Ideas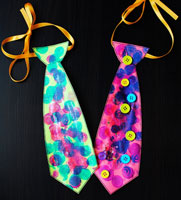 With regards to kid craft ideas, the possibilities are truly endless. Be sure to share with us yours below!
Most importantly, no matter what crafts the kids end up making or how silly it looks, it's the thought that counts as dad is sure to appreciate even the smallest of gestures and the messiest of gifts.