Cleaning is only a chore if you make it out to be. We suggest instead looking at it from a fun perspective of not only livening up your home, but also saving money with quick and easy DIY cleaning tips.

From tips that apply universally to the entire home, to the kitchen, bathroom/laundry room, living room and bedroom, below are a couple of useful tips for a naturally (and cheaper) cleaning alternative:
Universal Tips
Cleaning wipes: In a previous article, we touched on making your own cleaners from all-purpose, to window cleaners and more. In fact, just about any commercial product can be re-created, such as cleaning wipes from baby wipes, to glass cleaners and even moisturizing hand sanitizer wipes.

Floor: For a streak-free shine, mix equal parts of water, white vinegar, rubbing alcohol and a couple of drops of liquid dish detergent. As for carpets, dump cornmeal on big spills or spot clean with 1/4 cup of liquid detergent and water, followed by a vinegar rinse.

Baseboards: To remove dirt and keep it off longer, wipe a fabric softener sheet along each baseboard.

Spider Repellant: In a spray bottle, combine 5-6 drops of an essential oil (i.g. lavender, peppermint, citrus), up to 5 drops of dish washing liquid and a liter of water.



Kitchen
Kitchen smell: Boil some orange peels with a couple of pinches of cinnamon and let it simmer for an hour.

Oven: Sprinkle baking soda in the bottom of the oven for close to a day and then wipe off with either water or vinegar for a clean an shiny interior (can be used on the glass door and stovetop);

Stove-top: Sprinkle baking soda over the entire surface, cover with a hot damp cloth and wipe after 20 minutes.

Clogged drain: Use 1 cup baking soda and immediately follow-up with 1 cup of cider vinegar and large amounts of hot water. Alternatively, this method can also be started with a cup of salt.

Microwave: Microwave 2 cups of water with a couple tablespoons of lemon juice for 1-2 minutes to loosen accumulated food residue and then wipe off with a towel.

Dishwasher/ Coffee maker: Run a cup of vinegar through the selected appliance.

Toaster: After unplugging it, simply use an old toothbrush to get rid of all the crumbs over a garbage can.

Cutting boards: Cut a lemon in half and use it to wipe board plastic and wood cutting boards. Let it sit for 20 minutes and then rinse.

Faucet: Wipe with wax paper for a longer-lasting shine.

Tea stains: Rub a paste of salt and water over the stain.

Air vent filters: Add 1/2 cup of baking soda to an extra-large pot of boiling water and insert the filter with thongs. Let it boil for a couple of minutes and then insert the other side.



Bathroom/ Laundry Room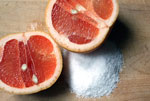 Toilet bowl: Pour 1/2 cup of baking soda overnight and brush in the morning.

Bathroom grout: Although baking soda and vinegar may be used, salt and grapefruit work just as well.

Mirror fogging: Rub mirrors with shaving cream and wipe off with a soft cloth.

Flatiron: Run the hot iron on a sheet of paper covered in table salt.

Toothbrushes: Dip them in hydrogen peroxide to eliminate accumulated germs.

Towels: To eliminate odors, wash towels in hot water with a cup of vinegar followed with 1/2 cup baking soda.



Living Room
Wood polish: In a spray bottle, combine lemon juice, olive oil and water and then use a soft cloth to wipe.

TV Stand (or any other stand that accumulates a lot of dust): Same with the baseboards trick mentioned earlier, wipe a fabric softener sheet over the entire surface.

Leather Upholstery: For a general clean, use a moisturizing soap.

Radiators: Cover the area behind the radiator with a damp cloth or newspapers and use a hair dryer to blow the dust off.

Broken glass: After sweeping the bigger pieces, sprinkle with baking soda and water to make it easier to sweep up the finer pieces.



Bedroom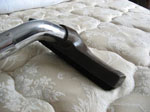 Mattresses: Sprinkle a mixture of baking soda and fabric softener over the entire mattress and vacuum after an hour. This technique also works for carpets.

Musty odors in drawers: Place either an unwrapped bar of soap or dryer sheets for a couple of days. May also be used for storage boxes and suitcases.

Jewelry: Gently scrub with toothpaste.



Be sure to take a look at our tips for a greener home as well.
Do you have any other DIY cleaning tips? Share them below!