Cleaning a living space, whether a house or an apartment, is no easy feat. The same complaints can be heard time and time again — it's time consuming, expensive etc. With a little planning, the cost of household cleaning products can be significantly reduced.

In this article, Jeff, a cleaning expert, provides useful tips and tricks for cleaning the right way to save not only on money, but time as well — with the household staying sparkling clean and smelling fresh longer.
Speaking of a fresh scent, have you read our article on the Top 6 Air Purifying House Plants?
Clean Regularly For Best Results
Doing a quick, maintenance-style cleaning every day or two will not only keep your home looking presentable, but is sure to reduce the money and energy you will have to spend when it's time for a more intense cleaning. If you leave things dirty for a while, it can lead to bigger and more nasty problems that may require more costly measures.
A quick clean-up can be as simple as getting rid of trash, removing clutter, or moving items back where they belong. Depending on how much time you have, light dusting and sweeping will save you a lot of time later on as well. A small amount of regular cleaning really helps in the kitchen, especially if cooking is a hobby of yours. Food stains can get nasty really quick on surfaces like ovens and stoves.
Use All-Purpose Or Multi-Purpose Cleaners
First of all, don't get caught up in the need to buy a whole cabinet full of specialized cleaners. A good all-purpose cleaner can be used all over the house, from the kitchen to the bathroom and even the garage. ABC's Consumer Reports recently put several of these versatile cleaners through a battery of tests, and here's a short video summarizing what they found:
Reusable Cleaning Products
Taking into consideration that the cost of disposable cleaning items can quietly add up, opt for reusable cleaning products and tools where possible. For instance, microfiber cloths do a great job, especially since they can be washed and reused a high number of times. Made of tiny fibers that are finer than human hair, these are much better at grabbing and holding onto dirt, which has the added benefit of requiring a smaller amount of soap or cleaning product.
Go for standard reusable mops as well, and take proper care of them. These will last much longer and end up costing much less than mops with disposable cloths or pads that you have to keep buying.
To save a bit of money on these items, watch for discount and sales on our regularly updated Home Depot coupon page.
Make Your Own Cleaner
An even more economical cleaning solution that works just as well in most cases is making your own cleaning products out of simple household items. This reduces both costs and the harmful chemicals found in many commercial cleaners. NotAnotherCraftBlog! has a useful list of how to make 5 different types of homemade cleaners, from: all-purpose cleaner, to window cleaner, grease cutter, tub & tile, and even anti-bacterial. The best part is that they all use no more than 3-5 simple ingredients.
Plain old white vinegar is noticeably a common ingredient here and with good reason. This versatile liquid has a few more household applications in addition to those listed above. Want to get rid of the grime that builds up in your electric kettle? Try pouring 1/2 cup of vinegar with some water into your kettle, and then boiling it. Rinse it out and admire how sparkling clean it turns out! This same idea works with your dishwasher as well – add 1/2 cup of white vinegar to an empty rinse cycle once a month to clean out any bacteria or buildup inside your dishwasher pipes.
Likewise, quite a few recipes have been popping up online for DYI laundry detergent, which is apparently better and more efficient than store-bought ones. Not only that, but according to How Does She's recipe, it will only cost you $28 per year.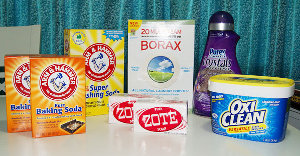 Extra Tips For A Clean Bathroom
As we all know, the bathroom provides a few special challenges when it comes to keeping things clean. Let's go over a few tricks you can use, starting with the shower. Do you have soap scum buildup on your shower door? Next time you clean it, follow up by using Buzzle's tip of wiping the door with lemon oil furniture polish with a soft rag. Let it sit for a few minutes, then polish off the excess with a dry cloth. This slight film of oil will prevent future buildup.
Then there are those horrible white mineral deposits on your faucets – how can you get rid of those? White vinegar to the rescue! Soak three paper towels in vinegar and wrap them around the faucet. Letting them sit overnight, remove the towels in the morning and scrub the faucet with an old toothbrush using warm water and dishwashing liquid. Good as new! Take a look a this list of the 1001 uses of cleaning with vinegar for even more cheap ideas.

Speaking of old toothbrushes, always keep a few of these around as they're great for cleaning those hard-to-reach corners and crevices.
Finally, keep your bathroom smelling fresh by pouring 1/2 cup of baking soda into a small dish and placing it either on top of the toilet tank or on the floor behind the bowl. Believe it or not, charcoal briquettes also work. Replacing them every couple of months, place a few of these in hidden corners to soak up moisture and prevent odors.
This article was written by Jeff a friend of Vouchercodes.ca who has a real talent on watching the pennies. Don't hesitate to submit to us any article that might be helpful to the community! Thanks.
How do you save money on your cleaning?