Right on cue with last year's announcement of the iPad Mini and on the heels of the new iPhone 5C and 5S, Apple has made a string of improvements to its products: the iPad, iPad Mini, Macbook Pro, Mac Pro along with a brand new operating system dubbed Mavericks but are they worth investing into? Keep reading to find out.
In a shocking new twist, Apple has also unveiled that its iWorks apps, Pages, Numbers and iWorks, will now all be free to download along with Mavericks. And while there is no news as to whether or not this is what Steve Jobs would have wanted for his beloved company, it's nevertheless a much welcome change that users have been hailing as the right one.
With that being said, let's take a look at the specs of the news Apple products and whether they're worth it from a budget standpoint. What's interesting is that it will be retaining its current iPad Mini (without Retina display) on store shelves along with the added bonus of a $30 price drop to $299. But will this be enough to convince most shoppers to turn a blind eye to the new product this holiday season?
iPad Air
Designed to be faster and sleeker like never before, the all new iPad Air is sure to win over the hearts of many and is bound to be placed at the top of most Christmas wishlists. Weighing in at just 1 pound (previously at 1.4 lb), here are the new iPad Air specs:
A7 Processor
Dual-core 1.3 GHz Cyclone
PowerVR G6430 GPU
5 MP camera
iOS 7.0.2 operating system
Li-Po battery (10 hour battery life)
Faster Wi-Fi with MIMO technology
iPad Mini

Interestingly the iPad Mini is really just –well– a mini version of the iPad Air. Boasting the same quick A7 processor, camera features and battery quality, the only differences lie within its size (7.9 inches instead of 9.7) and price ($100).
And while the iPad Mini manages to squeeze in a tad more pixels into its screen than the iPad Air, the decision as to which you should get if you're in the market for a new Apple tablet depends entirely on whether over $100 is worth the extra 1.8 inches.
If you're on a tight budget and you don't see yourself using the iPad for heavy video watching or gaming, then perhaps the Mini may be a more suitable choice (especially with regards to budget and using it as an eReader).
Macbook Pro
Ideal for those who want to take their devices on the go but with far more capabilities than an iPad. With Retina display, it's actually on the more affordable end of the scale, starting at $1,299 for a 13-inch.
While Macbook Pros are widely known for being the must-haves for those in any graphic field (i.e. graphic designer, photographer etc.), users looking to simply browse the net, check their e-mails, perhaps even take notes in class, should definitely consider the budget-friendlier MacBook Air, which can be had for as low as $999.
Mac Pro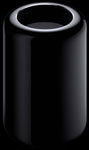 Before we dive into the intricacies of a Mac Pro, let's clear up exactly what it is for those who may be lost in confusion over its similarity in name to the MacBook Pro mentioned previously. Though taking its name from the laptop version, the Mac Pro is actually more of the MacBook Pro's parent because it's essentially a desktop, most commonly referred to as a workstation. Though still requiring the conventional monitor, keyboard and mouse in order to operate, the Mac Pro itself requires almost no space at all. Displayed on the right, the Mac Pro is 9.9 inches high and only 6.6 inches in diameter!
But what it lacks in size, it definitely makes up in extreme power (akin to Doctor Who's Tardis). Starting at $2,999, it features a whopping 3.7 GHz quad core Xeon CPU, 12GB DRAM, 2 AMD FirePro D300 GPUs and a 256 SSD — meaning that it can open thousands and thousands of tabs and programs without slowing down a single bit.
In the end, deciding whether to invest in Apple's new products or not depends entirely on your budget and what you need out of the gadget.
Do you think Apple's products are worth the price? Share with us whether you will be getting any of the above-mentioned tablets or laptops.