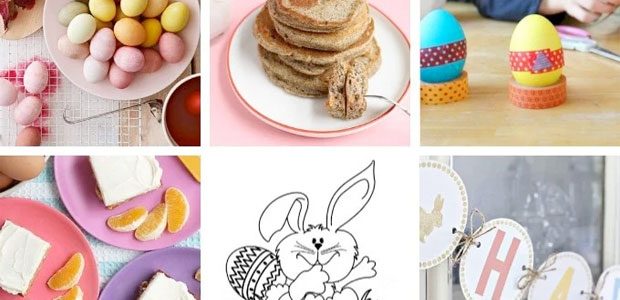 Although Easter has now turned into a highly commercial holiday filled with bunnies, chocolates and mad dashes for eggs, it's meant to be a day in celebration of the resurrection of Jesus.

Luckily, figuring out frugal Easter activities for kids isn't as hard as it may seem, especially with the following activity ideas for a fun day.
1. Egg Dying
As we've mentioned in a previous article on Easter Decorations, don't forget to empty your eggshells before decorating them by using a needle and blowing technique. Once done, you're ready to start dying, painting, coloring… or anything else you can think of.
While store-bought kits can produce beautiful and colorful eggs, a variety of natural methods can have the same effect: red cabbage for purple, blueberry for blue, cayenne pepper for a reddish brown and many more.

For an unconventional and yet highly original egg decorating project, try the silhouette technique as described by Jennifer Holmes. All you need to do is to affix an Easter-themed sticker, such as the one featured on the right, onto the boiled and cooled egg and then dip it into a cup of coffee or extra strong tea — super simple and yet original enough for loads of compliments.
As for more advanced projects, take a look at the angry birds eggs, which would be both absolutely fun to make and would look great in pictures.
If you're feeling up to the challenge, there is also the option of re-creating Volker Kraft's project of decorating an apple tree with Easter eggs — 10,000 eggs of various colors and patterns to be precise. It took him 47 years to achieve the following calibre of incredibleness: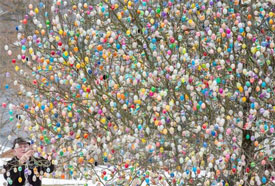 2. Egg Hunt
In case you're worried about a child ending up with more goodies than another, then it's worth implementing Frugalbits' idea: each hunter must look for a set number of identical eggs based on the color or pattern unique to their basket.
For a bit of a brain teaser, a good scavenger hunt could also be set-up with the ultimate prize being a basket full of chocolates.

While one of the most exciting parts about Easter is the hunt for eggs, it is important to show the little ones that it's more than just about candy. Instead, little notes can be hidden in eggs with promises to a trip to the movies or alternatively as an educational journey about the history of Easter.
As for teenagers, a heartthrob Easter egg hunt with a picture of a cute actor or singer along with a fake love note will most definitely lead to loads of excitement and eagerness to find the next egg.
3. Party Organization
Ideal for parties are baskets full of candies and chocolates, especially Kinder Surprise Eggs since as Maple Leaf Mommy points out: "kinder Surprise eggs and Easter just naturally go hand in hand".

For a truly hopping party, the decorations are just as important as the actual party. Just take a look at the wonderful packaging on the left that can be quickly printed, cut out and wrapped around just about anything.
Better yet, save time by having your kids make Easter items like baskets or bunny shaped garlands to help save you both on time and most importantly — keep them entertained for a couple of hours while you relax a little bit!
While we're on the topic of relaxation, how about a joke?
Q. What do you call a rabbit with fleas?
A. Bugs Bunny!
In all seriousness though, jokes like these could be either printed and hung on walls or memorized to keep kids laughing all day.
4. Easter Crafts
While Easter-themed crafts may sound complicated at first, they're actually easier than one might think considering that at the end of the day, it's not the result that counts but rather the memories and experiences that the children retain from them.
With just some googly eyes, a pencil, glue, scissors as well as yellow and orange construction paper, the handprint chick craft will not only provide for some fun entertainment, but it can even be used as a decorative piece around the house!
To encourage reading, you can also have you kids make the very easy bunny bookmarks by mainly using envelopes and construction paper. The best part is that once inserted into a book, the bookmark will look as though it's trying to eat the page!

One of the best ways to craft is by re-using items around the house and this is exactly what Happy Hooligans have achieved with their toilet roll Easter bunnies. With step-by-step instructions on how to easily make them, it's just as great of an idea as using paint swatches to create practically free garlands, with the only expense being the cord to hang them from!
Looking for an even more frugal Easter craft for kids? On the tangent of giving kids pet rocks, there's also the idea of letting them decorate rocks with Easterly colors such as pastel (think soft pinks, blues, purples etc.) — some rocks could even be painted as bunnies!
For even more children's crafts for Easter, take a look at intellidance's 3 simple Easter crafts for kids using contact paper.
5. Easter Recipes

First thing's first, the morning needs to be started off with some delicious bunny rabbit pancake, but no worries, you can just as easily replace all of those ingredients with a pre-made mix, especially if you're pressed for time. Once ready, the bunnies' shapes need to simply be cut out as directed for some excited glee from your kids!
As for cupcakes and cake slices, be sure to decorate them in a very bunny-appropriate way, such as with Betty Crocker's suggestion to use marshmallows to create bunny ears or with SavvyMom's sugar cookie bunny ears.
Looking for something to hold the chocolate eggs? The Easter rice krispies nests can quickly be whipped up to contain anything you might want — from candy to the aforementioned notes and messages.
All things considered, Easter doesn't have to solely revolve chocolate as real food is indeed needed as well. For some extra inspiration this year, take a look at the following stress-free recipes:
And finally…
A variety of other activities can be quickly organized, even last minute:
The possibilities are truly endless as the smallest of activities can keep kids entertained for hours.
Hoppy Easter!
Comment below with your plans for this fun-filled occasion.