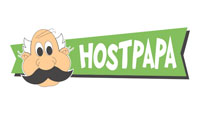 Business and WordPress Hosting 25% Off
Deal Activated. No Coupon Code Required. See Opened Link For Details.
Enjoy up to 25% off select Business Class and Optimized WordPress Hosting plans at Hostpapa.ca. See site for details, no code necessary.
Expires: 9 months left
Submitted: 1 year ago
Expired HostPapa.ca Coupons
About Hostpapa
HostPapa pride themselves in providing to every customer a full hosting package, all supported by a customer service team and powered by renewable green energy. HostPapa is well established in the world of hosting, they stay competitive by providing a low cost and a high value service. Also, every precaution is taken to make their services safe, reliable and technically productive. They have servers based in Canada which is a huge plus.
They say they are green in the sense that HostPapa promotes the development and use of solar and wind energy resources. Also, they purchase green energy certificates to compensate all the power they use in their data centers and offices.