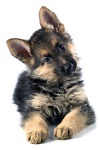 Petcetera members everywhere are going to cheer for this outstanding printable coupon. Starting on June 15th until June 17th, print out this coupon to save a whopping $10 on a bag of 9kg or larger dry dog food or 5.45kg or larger dry cat food. Anyone with furry friends (or any sort of pet), will be the first to tell you that pet food can really add up after awhile. I have a growing German Shepard puppy (she's more of a bear, and she's only 10 months) and she eats like a pig. We still buy her puppy food, but it's just as pricey as everything else.
Heads up, this coupon also applies to items on sale as well. This Puppy food from Techni-cal is on sale for $52.99 instead of of $65.99; that's a 20% saving already (with the membership card). Add on the $10 coupon and you're saving $23.00 on a bag of dog food. Not too shabby.
Let's start something on our Facebook page, my frugal friends; let's see pictures of your creature companions!