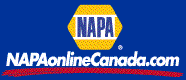 Here's something a little different. A Holiday flyer from Napa Autopro. There are a few interesting deals on there. For example, there's a 35% rebate on a wireless reverse video system for your car (how cool is that?). There's also a great road side winter kit. Another example is a 40% rebate on a ratchet kit, which seems very robust by the way.
Click here to get your Napa Holiday flyer
~ The coupon or offer is no longer valid, please use the search feature at the top of this page to find new offers
I just wanted to talk about an alternative to Canadian Tire. I always end up going there and I don't know why. My personal appreciation of that place constantly goes down every time I go there. It's so hard to get service and even when you do find an attendant you're not necessarily going to get the product or answer you were looking for. Last time I went there I waited an hour to get my winter rims. Also, I'm kind of stoked about that reverse camera for your car.