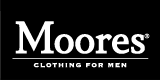 This post features a great Coupon to get 50 % off all suites at Moores. That's right, for a limited time get a great rebate from this well known and respected chain. From November 14th through the 22nd of 2009 present the printable coupon below at any Moores store to get your discount.
Click here to get your Moores 50% off Coupon
Moores has a price range for everybody, it's a great place to get your first suit, get a tailored suit or even a tuxedo for a wedding or any other special event. Here's a great deal for tux by the way: save $25 on shoes and a vest when you get a tuxedo rental package. Simply click here.
I know I always like to get well dressed for an interview, a nice dinner or simply a night out. Moores can also help the 30 years old teenagers out there. My brother should definitely go and check them out… More seriously, I know it's tough when you get your first job out of school. It's one thing having some nice clothing for special occasions, but when you start needing a suit for every day it kind of changes the game. That's why this deal is a great opportunity to fill up your wardrobe.