With the ever so rising popularity of cooking shows nowadays, whether through Top Chef, The Taste, Chopped or any other, it's hard not to cook what with all the creativity flying around both online and on television. However, do you wear an apron when cooking? Invest in your very own or perhaps in your nth one and save 20% off vintage inspired Bettys apron at Kitchen Stuff Plus with the code below.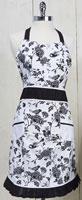 Previously a wardrobe essential by countless home cooks, it seems that the apron is slowly going out of style but these are hugely important, especially if you're wearing evening attire! The apron on the right for instance is the Danica 'Songbird' Betty and it features 2 large pockets in the front, perfect for storing your phone while you cook and anything else you always have on hand with out!
Use the store locator to find a location near you or take advantage of the following coupon code to shop online instead: BETTY926.
In fact, Kitchen Stuff Plus is currently in the middle of their Red Hot Deals as well, where you can get a number of items for just $5.