Standing tall at 553.33m (1,815 ft), the CN Tower is considered the world's tallest freestanding tower and is Canada's National Tower. Whether you live nearby or are planning a trip to Toronto, ON soon, be sure to visit this spectacular tower and use the printable coupon below to save 15% off a general admission ticket.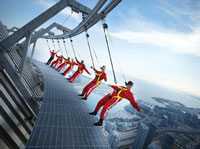 It is most certainly a tower worth visiting, especially with its glass floor, which allows visitors to see down below. As scary as it may seem, it actually is quite safe and provides for a rather interesting feeling to be looking down so far!
The CN Tower is also particularly renowned for its EdgeWalk, allowing people to walk around the CN tower OUTSIDE! I know what you may be thinking upon seeing the picture on the right but I'm sure it's quite the adrenaline rush!
While you're there, be sure to also print coupons to save up to $20 and 10% off at the Hockey Hall of Fame as well as up to $36 off at Canada's Wonderland.