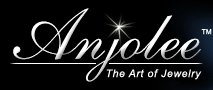 Anjolee have just contacted us to provide us Canadians (an other North American citizens) a great and exclusive 2% off coupon code. We couldn't get a higher coupon code, we originally asked for a 15% off Anjolee coupon code for you and they stated:
"Unfortunately, we can only offer a coupon code for an additional 2% off. Our merchandise is high end jewelry but since we are the manufacturer of all items, we discount it up to 60% off already and a 15 % off would give us no profit"
So I think you can rest assured there is no better coupon out there for Anjolee than this one.