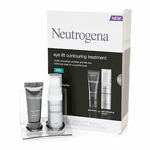 This promotion starts today! Yayy, I hear you say. This offer is for a free trial (indicative of a sample size, so not an amazing deal) of Neutrogena Clinical. One of these days we will get around to doing a review of LivingWell (you know the guys who advertise on TV, and of course the ones releasing the freebie) because there are some things we like (like the freebies) and some things we don't (like their low quantity of freebies and their strange and somewhat selective range of coupons).
This coupon will run out of stock quick, so keep checking throughout today (May 3rd 2011), and when you see it on the page linked below then sign up to it quick or it will be gone. As with all LivingWell offers the page will be updated but the out of date offer will be listed instead which can be kind of confusing. There are only 10,000 freebies which will run out presumably by the end of day today.
I'm not going to go into any kind of detail as to what Neutrogena Clinical is, as I have never tried it myself. But it is meant to be a cream that tightens the skin to make for a more youthful look. I found a recent review at this store for makup which quite a few objective comments if you are interested.