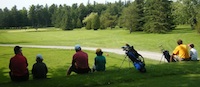 Starting tomorrow and for the entire week (July 4-10) it is the event where kids can play for free at participating golf courses across Canada. In order for the kids to play for free they need to be under 16th and accompany by one paying adult. Have a look at the dedicated website for this event, available using the link below, to get more information about the 615 participating golf courses and to find out more about any other activities organized in your area.
Get more information about Take a kid to the course event
Initiating your kids to golf could be a really nice activity to do with them. I started playing golf only a few years ago and I really like this sport. What I like about it is that you can practice this sport at almost any age and still be good at it. You just need to have a bit of patience, which is not given to anyone.This is why I don't think that every kid would like to play a round of golf, but it's always worth trying it once with them. In the worst case, they'll spend a nice day outdoors.