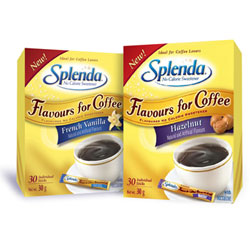 Splenda are giving away samples of their new line of flavoured no calorie sweeteners. From flavours like Hazelenut to French Vanilla Splenda are pushing their new line, so why not cash in and grab your free sample. Their sweeteners can be used for anything, but they suggest coffee. I just filled out the form, it took me a couple of minutes, as usual we suggest you sign up with a secondary email account for such offers, while they note they will not send you unsolicited emails, it is better to be safe then sorry. The sample(s) will take ages to arrive however, from 6-8 weeks. They are portable and come in sachet form. As will most freebies this promotion will only go on as long as stocks last, so hurry.
Claim your Free Splenda Sample Here
Excerpt taken from the site: SPLENDA® No Calorie Sweetener Flavours for Coffee is the newest member of the SPLENDA® Brand family, enhancing your cup of coffee with the perfect union of flavour and sweetness with no calories. Available in silky smooth French Vanilla and roasted Hazelnut, the convenient sticks are great at home or on the go – in your purse, your car or at the office.
Don't miss your chance for a FREE sample of SPLENDA® Flavours for Coffee, available while supplies last.