This could be a great freebie for all the young Lego fans out there. It is recommended for kids of 7 years old and younger. It is good for a free 2-year subscription to the Lego magazine, which is published 5 times a year. Meaning that your kid will get 10 magazines in total.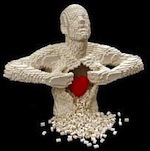 ~ When Lego sculptures are turned into art
The magazine contains puzzles, games, interviews and many more fun activities for kids. If they love Lego toys and you are trying to introduce them to the joy of reading, this could be a good starting point.
Sign up to the Lego magazine here
You can always cancel the subscription before the two year trial ends if ever you change your mind — set up a reminder on your computer. Allow 4-6 weeks to receive the first magazine.