This is definitive word on Photobucket's 'Pro' option. And we found a couple of coupons that may save you some money along the way if your interested in actually going for the product.
First you sign up to Photobucket for free, then if you have decided to go the "Photobucket Pro" route then pay attention to the prices (accurate at time of writing, hopefully they will be cheaper for you):
Monthly (pay as you go): $2.99
1 year: $24.95
2 years (Save 20%): $39.90
There are only 2 payment methods (once you have chosen one of the above lengths of time, these are Paypal and credit card. Make sure you pay attention to the little box that says 'Rebill me automatically' so you don't get any surprises.
And these are the features you get. Note in the image the Pro quote.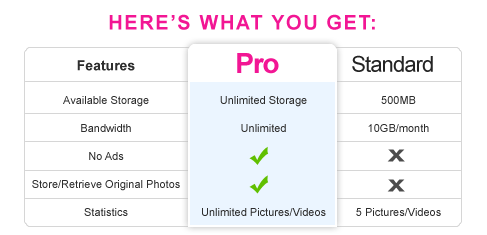 PhotoBucket Pro Features
Storage space: Unlimited
Image size: High res images
Traffic bandwidth: Unlimited
Image dimensions: 4000×3000
Custom URLs for albums: All sub-albums
Ads in your album: No
More stats: Full stats
Keep links active: Yes
SWF/Flash file support: Yes
FTP access to your account: Yes
Premium tech support: Yes
Photobucket Canada
Photobucket while aging a bit is still one of the biggest places online to go share your photos. you can also link your photos and even videos and graphics for free. Their pro edition is a little better but it cost (see the above section on quotes and pricing). They do accept Canadian visitors so when you sign up and want to pay in the section that says state, this is where you enter your province and the section that says zip code enter your postal code.
One of the biggest competitors to photobucket is facebook (which is free), but with all the concerns from users over the privacy of photos (seriously just try googling your own name, we bet you find your facebook profile picture) you can understand why photobucket is seeing a resurgence. Photobucket let's you share photos more privately and discretely, or on the other side you can choose to more openly share images than many competitors like facebook. plus there are way better tools and options.
One of the cool features we like is the way you can make slideshows to share with friends.
Sign Up To PhotoBucket Canada
Photobucket Coupons
Remember if you have any new and valid coupons for photobucket then make a comment below or email them to us to share with other customers.