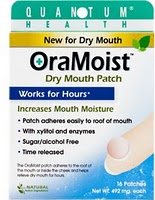 OraMoist is offering a free sample. If you don't know what this product is we have a short description below. Strangely you have to call to get the freebie, but it only takes a few seconds.
"OraMoist is a breakthrough dry mouth treatment patch that has been specially developed to alleviate parched, dry mouth, lock in moisture for hours and restore a healthy oral environment. OraMoist is a small, tablet sized dry mouth treatment patch that adheres to the roof of the mouth or the inner cheek. The patch slowly dissolves, releasing natural ingredients that moisten the mouth. In most cases, the patch fully dissolves in 2 to 4 hours, and some people report that it lasts overnight. "
You can claim your free sample by calling 1-800-448-1448 and request a free OraMoist sample.