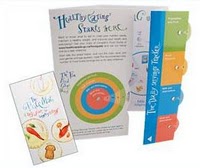 The Dairy Farmers of Canada are giving away numerous freebies at the moment. This is what you can get;
● Calcium Calculator – brochure
● Healthy Ways, Healthy Weight 2006 vol 1 – Magazine
● Measuring Tape
● Plate Mate
● The Menu Planner
● Mission 5421: Finding Paradise Island – game for 7-8 year old – and lots more!
They ask you to download and print some of the stuff but they will also post it to you, either way, it's your choice. But it will take a couple of weeks to arrive (which is actually super fast). Now these freebies are not what I would normally consider great or even half decent, but for all of those calcium counters out there this may be worthwhile.