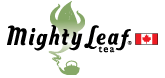 Mighty Leaf is a newish Canadian online company that sells award winning silken tea pouches, as well as loose teas, teaware and gifts. Apparently they have some of the best green, oolong, herbal, white, black as well as organic teas online. If you ever buy tea online you will know that it's expensive shipping wise to buy from outside Canada, and it's been a long time coming to see a quality exotic and high quality online tea company in Canada.
One of my favourite tea's is called Assam tea and low and behold they have a few different varieties that you just can't buy from regular Canadian shopping stores like the Assam flower tea.
Did you know that organic tea has more antioxidants than your regular mass produced tea found at your supermarket?
Other than the free samples with every order customers can also take advantage of; orders are dispatched within 24hrs, $10.95 flat shipping across Canada and even free shipping on all orders over $99.