Every other Saturday, Lowe's is offering free Build and Grow workshops for kids! Although these are recommended for children from grade two to five, any kid is surely welcome (although check with the nearest Lowe's to you beforehand).
Early registration also recommended to ensure a spot and this can be done in person at the nearest Lowe's store.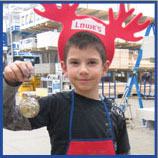 The fun part about this workshop is that kids will be able to take home: the toy they made, a merit certificate, name tag, apron and goggles.
The next two available workshops are:
10th August 2013: Build Dusty from Disney's Planes
24th August 2013: Build El Chupacabra from Disney's Planes
Find out more about the Lowe's Build and Grow workshops here.