Words cannot even describe the amazingness behind Krispy Kreme's one-day only promotion! Only on September 19th 2013, during their Talk Like A Pirate Day, you can get up to a dozen free doughnuts!
This is a great opportunity to treat all of your coworkers or perhaps even your family to a delicious dessert that is sure to have everyone raving for days!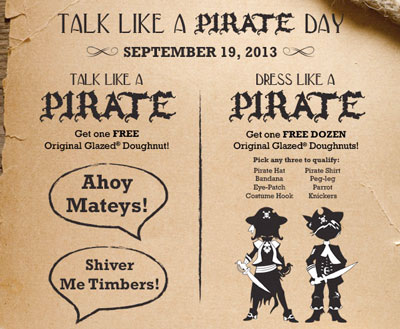 To qualify, either:
Talk like a pirate for one free doughnut or
Dress like a pirate for a dozen free doughnuts.
It's a shame that it's not an all week kind of freebie but the chance at a free doughnut, even during one day, is still pretty awesome in our frugal books!
Visit Krispy Kreme's website to find out more how to talk or dress like a pirate for free doughnuts.