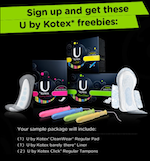 We recently blogged about a Kotex free sample which was super popular by our members and I believe is still valid. We just found another freebie for Kotex, this time from Walmart.ca.
– Click to get your Kotex free sample
Click the yellow button at the Walmart site that says; "Get your samples here" from there simply fill out your details to get your freebie.