Pack your swimming trunks, lather on the sunscreen and enjoy free swimming times thanks to Tim Hortons. Quebec and Ontario residents can take advantage of free swimming in participating pools at select times. The list is huge and there's no doubt that you'll be able to find a pool to soak your feet in — if you live in these provinces that is.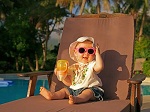 It's hard to be frugal in the winter months, especially if you enjoy swimming but can't take advantage it. Public pools — the ones that aren't free — can add up after a bit and water parks can break the bank. I have fond memories of spending complete days at my local public pool where I made a bunch of friends and always had a blast. Even as an adult, nothing can beat a good dip in a pool.
Times vary from location to location, so double-check before you head out. Capacity restrictions do apply, so get there early just in case.