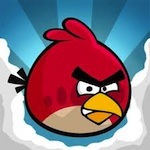 The developer of the game Angry Birds, Rovio, teamed up with Google Chrome to offer the game for free to everyone . The game has been designed to work for Chrome but it should also work for Firefox 4. If you haven't heard about the Angry Birds game, just like me before writing about this freebie, well it's supposed to be a lot of fun. From what Stephen told me, since he has it on his iPhone, once you have started playing you won't be able to stay away from it. He told me I should try it but I'm kind of worried that I will like it too much…
Writing about this freebie got me thinking about a few stats that I saw recently. Which browser are you currently using? Looking at the stats it looks like more and more people are now using Google Chrome while Firefox still remains the most popular browser. From what I've seen, Google Chrome is now just a bit more popular than Internet Explorer, which is quite impressive.
I've downloaded Google Chrome a few months ago just to try it out and I did like it even though I way prefer my good old Firefox because of all the plug-ins. But according to the reviews that I read about Chrome, it is supposed to be one of the best free browsers available out there, if not the best. So what do you think about it? Would you recommend it to our users?