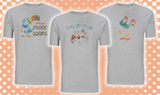 I just found out about this cool promotion from Kellog's Canada where customers can get a free vintage tee. Here's how this promo works. Buy 2 specially marked boxes of Kellog's cereals and look inside for your pin code. Then simply enter the two codes online at Kellogpromotions.ca Vintage page. Select the vintage tee design and size that you would like to get and enter your home address to receive it. It should arrive within the following 8-10 weeks. I think that the vintage tees look pretty funky. There are 175,000 tees available, so hurry up if you want to be able to choose the right size for you.
Get more information about Kellog's free vintage tee promotion
Participating Products: Frosted Flakes (680g), Corn Pops (515g), Froot Loops (580g), Mini-Wheats Original (850g), Mini-Wheats Brown Sugar Flavour (850g) and Rice Crispies (700g).
Promotion ends on August 16th.