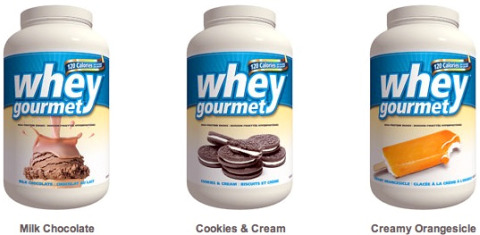 I have never tried or even heard of Whey Gourmet and their products, but from the images alone they look delicious. Whey Gourmet make protein shakes and they are offering a free sample to choose from for Canadians only. The link we have goes to their freebie page, so just look out for the claim free sample link at the bottom of their page (it's the middle image).
Request your free sample from Whey Gourmet
I am not a usual protein shake drinker, but my brother is, he does a lot of kickboxing and rugby and wants to be as big as he can be, so he drinks one every night before he goes to sleep, he has gone through various brands and different flavours before finding one he liked. I tasted it and it wasn't too bad, but remember most of them taste rubbish. So I have no idea if these actually taste nice, but anyone doing free samples usually has a lot of confidence in their product so give it a try. Expect 2 – 4 weeks for deliveries, they may also contact you to verify your mailing address.
While I did claim the freebie I wasn't too happy about the terms and conditions, check this out:
"By filling out the form below, you agree to have your contact information added to our database. You agree to allow Whey Gourmet to mail/email you free samples, coupons, and/or promotional materials in the future."
But I think by law they must have a mechanism for opting out out at a later date.