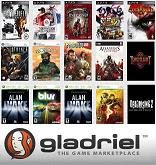 This free video game is courtesy of Gladriel the all-in-one gaming marketplace, a place to find reviews and previews of numerous games.
To get your free game simply get six of your friends to join the site (completely free) under your referral link. Then pick out the game you want on Amazon, they will ship the game to you (North America and Europe only at this time)
How to claim free game:
– Once you have used the above link to register, click on "Invite Your Friend" the link in the right hand column.
There is says:
1. Let's invite at least 6 of your friends now! (they all have to register of course)
2. Pick up any video game from Amazon.com you want (up to $50!)
3. Send the Amazon.com link of the game to Gladriel Trader
4. We ship your chosen game to you anywhere in North America and Western Europe!
I think it will be quite easy to refer 6 people. I have a feeling the terms of this promo will change as they are probably loosing a lot of money. But according to the geek forums this company has actually shipped out loads of free games so far which is awesome. So grab your free game while it's still hot.