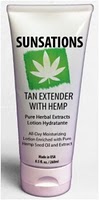 This freebie is not for everyone and I cannot vouch for their website, as it looks to be fairly new (i.e. I am not sure I trust it completely). But those of you willing to take a chance can get a free 'Booth Juice' tanning lotion (natural spa formulations for sunless spray products). These are the samples you can choose from;
– Natural Body Wash
– Natural Exfoliating Body Wash
– Sanitizing Moisturizer
– Tan Extender
– Self – Tanners
– Tanning Lotions.
Only available while supplies last, T&C's may apply.