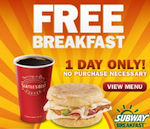 Now the worlds largest fast food restaurant Subway Canada are offering up a free breakfast for customers on the 31st May 2011 (from 7-10 am).
Customers will get a free ham and cheese egg muffin melt as well as a 12oz coffee. Apparently the deal is valid at participating Subway's (if you didn't know Subway is a franchise) stores across Canada (excluding Quebec).
Find your nearest Subway restaurant and book the date in your calendar, whether you are at work or at home, take a moment to get your free food and drink.
There is no purchase necessary! (the word amazing comes to mind). Tell all of your friends about this deal (any you might want to mention where you heard it too).