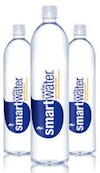 Here's an offer from Smart Water for a free bottle of water. Anyone interested in this freebie will need to 'like' Smart Water on Facebook first and then you will be redirected to Websaver.ca. If you don't have a Websaver account, create one for free and then simply wait to receive your coupon in the mail.
It looks like the retailer might need to charge you the applicable tax for the total amount of your purchase, accordingly to a provincial law. If anyone has used this coupon yet, let us know where you're located and if you needed to pay for taxes or not. The law might be different from on province to another one.
Go to Smart Water Facebook page
I've never tried Smart Water before so I have absolutely no idea if this is good or not. Anyway, if you just ask me I think that water tastes like water. I wouldn't consider paying more for water even though it is supposed to taste fantastic.