With the enticing headline "Ready to cherry up your summer?", Escada is offering a free sample of its newest fragrance, "Cherry In the Air". Combinining the mouth watering juiciness of cherries with sweet marshmallows and indulgent sandalwood, it's definitely reminiscent of the lazy days spent at the beach or by the pool.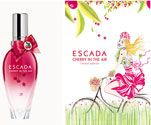 To coincide with their cherry fragrance, Escada is always offering a downloable recipe of a cherry treat smoothie that is quick, easy and perfect to have during breakfast or perhaps even during the day for a refreshing taste.
According to Escada's official website:
ESCADA Cherry in the Air is a light and airy reinvention of cherry that captures the irresistible quality of the fruit while simultaneously reflecting the carefree 'joie de vivre' that is synonymous with ESCADA. Such delightfulness is achieved through an unexpected combination of juicy red fruits and an addictive marshmallow accord – the perfect blend of youthfulness and gourmand pleasure, made for sharing.
Order your free sample of Escada Cherry In The Air here.