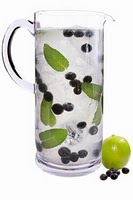 While it is late in the summer, there is still time to grab an ice cold pitcher of your favourite beverage and head for the outdoors. This free pitcher from Veev might just help you while away the rest of the long summer lazy days.
You have to earn this freebie, this is what you have to do;
Post a video, photo, story or tweet to show Veev how you're super with the caption, "VeeVa, ______". Then get 10 friends to "like" it to get your free VeeV Pitcher. Here are some tips.
Tip 1: Click on "ADD YOUR POST". Add a title or caption that uses, "VeeVa, ______" in your description.
Tip 2: If you are uploading a photo, make sure it is cropped to only show the image you want to post. (Keep your photo under 5MB, or it may not be published.)
Tip 3: Post videos and text, too. Show them how you're super. (Keep your video under 5 minutes and 250 MB, or it may not be published. Please be patient…video uploads can take a few minutes.)
Tip 4: You can post as many times as you want, but it's only one pitcher per person.
Tip 5: Be sure to post to your Facebook wall!
Tip 6: Click 'Share This Wall' and get 10 friends to "like" your post. Then relax and wait for the pitcher to come in the mail!
Bonus: Earn the most "likes" on your post for the week and they'll send you 3 free bottles of VeeV to get you going.