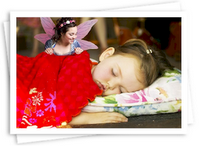 How cool! You can now get a personalized photo of your kid sleeping with the tooth fairy, for all those unbelievers out there. The freebie is from Catch a Character and helps prove that the tooth fairy is real, and 'Caught on Camera' with them.
Simply upload a photo of your kid (sleeping is always better) after they have left a tooth under their pillow (obviously) and get a free digital photo download with a tooth fairy using the coupon code below (normally a $9.99 value).
Coupon Code: Fairy-Proof
Note: This is a digital product. A printed photo will NOT be mailed to you. You will have the opportunity to instantly download, print and share the photo in many sizes including 4×6, 5×7 and 8×10.