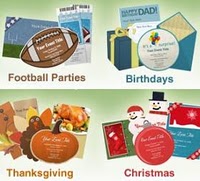 A bit of a low value freebie, but who knows, if you are planning a party any time soon you may find this valuable. We know a lot of people planning Haloween parties and I think we have agreed to go to them all which is always a problem.
In this free planner you get; Potluck organizer, "Save the Date", RSVP's, customized online invitations, e-cards, reminders, announcements, post party pictures and videos and a few other things.
The aim of this freebie is to help all those budding party planners out there stay organized, helping people plan the event from start to finish, keeping lists of everything needed and everything bought as well as invitations to make sure people arrive (I always make people RSVP a party so I know how many people to invite, and to make them feel bad if they don't show up). The planner also helps you make an invitation personalized (you can add unique photos and other cool stuff).