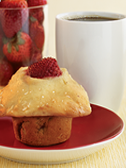 Having never heard of this brand; Bruegger's Bagels & mmmuffins I wasn't overly excited about the offer (because their muffins might not be good), so if anyone has heard of this store please let us know what you think of them? (are they tasty? Make good bagels too? etc).
This freebie requires very minimal work, and you don't have to commit to much. Simply sign up to their newsletter and they will send you a printable coupon that can be redeemed for 1 free muffin (check out the image for the scrumptious kind of muffin you can get).
before you get all excited it is important to know that they have a limited number of stores, so check this handy store locator to see if it's worth claiming your free coupon. I entered mine in there and was stunned to find out that there are a plethora of these stores in the Montreal area, who knew?
We signed up to this offer (as we do with most offers, for pure research purposes of course) and our coupon came through in an hour, but they did state that it can take up to 48 hours for the email to get to you.
After you receive your coupon you have 2 weeks to redeem it before it becomes invalid. Of course you can only claim one coupon per person, no purchase necessary and subscribers can cancel their newsletter subscription at any time.