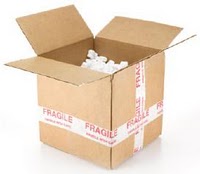 This is an interesting find from World Label. They have this cool tool which allows you to fill in the blanks and then it can be printed out on letter sized sheets for you to stick on your moving boxes.
If you have ever moved house then you might understand the importance of labels. I am a firm believer in a big black marker pen, but then again I have always moved my own stuff so I kind of know where stuff goes. But let's say you have a company moving your stuff for you, and you want the right boxes in the right room, better yet if they are going to put the stuff away for you then you need detailed instructions. Or let's say you are moving your stuff into storage, you need to label things right.
The format is in PDF that you can download and print. Here are other things in your free kit; master list, fragile labels, this side up labels, customize tags for each room, To and From, beware glass, shipping label size and more.