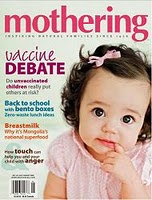 Customers can now subscribe to Mothering magazine for free. It's not the printed edition, it's the online digital edition but it's free none the less. People complain when a freebie is for a digital edition rather than printed but to be honest I prefer it. You get up to date information where you can click on links for references and resources and more information, in fact I never read the paper anymore, I simply go to the BBC news center online.
This code we have for you get's you the magazine online for free
Details: A free one year digital subscription to Mothering Magazine is
Coupon Code: CDIGM
Notes: You can see a sample issue, and then follow the "Subscribe Now" link to subscribe. Offer available worldwide.