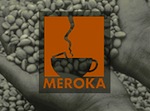 I found another offer for free coffee everyone. This one is for samples of Meroka coffee. To receive this freebie you will need to fill in a quick survey about what kind of coffee you like to drink. It only takes a few minutes and it will allow you to get free coffee. If we keep receiving other free coffee offers, we might not need to buy any coffee for an entire week! That would be awesome.
Get your free Meroka coffee samples
Café Meroka is a soluble coffee mix that comes individually packed in sachet. You can even get sachets that are creamier and with or without sugar which means that you simply need to add water in it.